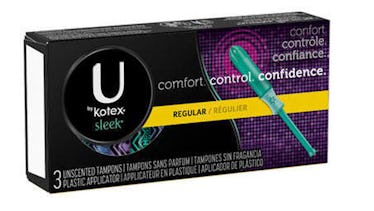 Some Kotex Tampons Have Been Recalled & Here's How It Might Affect You
Kimberly-Clark/U by Kotex
Ladies, if you're currently experiencing that ~special~ time of month, or are looking to stock up on feminine products for your next cycle, I'd maybe avoid reaching for the Kotex box if I were you — at least for the time being. The personal care corporation Kimberly-Clark has recalled certain U By Kotex tampons, according to CBS News, and retailers are being encouraged to take specific lots off their shelves immediately. But just in case you aren't sure which Kotex Tampons have been recalled, the good news is that it doesn't include all tampons made by the brand. But, if you currently own or are using these types of tampons, it might be a good idea to log on to the U by Kotex official website, type in the number on your box, and make sure your lot isn't among those that are being recalled.
According to the official announcement made by the U.S. Food and Drug Administration (FDA) on Dec. 11, 2018, Kimberly-Clark has voluntarily recalled lots of U by Kotex Sleek Tampons, Regular Absorbency that were manufactured between Oct. 7, 2016 and Oct. 16, 2018 and distributed to stores across the United States and Canada between Oct. 17, 2016 and Oct. 23, 2018. That's two years of shipments, guys, so there's a very good chance that, if you've purchased a box of U by Kotex Sleek Tampons, Regular Absorbency at some point during that time frame, the box sitting on the shelf in your bathroom could have been affected.
Kimberly-Clark has recalled boxes of U by Kotex Sleek Tampons, Regular Absorbency in response to a series of customer complaints, as per the FDA's announcement. According to the agency's statement, the product was said to be unraveling, or coming apart, either inside the consumer's body, or while they were removing the tampon after insertion. This probably wouldn't be a huge deal on its own, but in some cases, pieces of the tampon were left just chillin' inside the individual's body, causing "infections, vaginal irritation, localized vaginal injury, and other symptoms," as per the FDA. Which, as I'm sure you can imagine, can potentially be a serious issue.
The good news is, as per the FDA's official press release, no other U by Kotex products have been recalled. In other words, if you've stocked up on U by Kotex pads, or tampons that aren't the Sleek, Regular Absorbency kind within the last two years, you're in the clear. But, if you're currently staring at a box of these specific tampons as you're reading this article, don't panic. Go to this link, and type the number on your box into the lot number checker to find out if the product has been recalled. You can also refer to the FDA's U by Kotex Sleek Tampons, Regular Absorbency Impacted Lot Code Listing, or contact the Kimberly-Clark's Consumer Service team at 1-888-255-3499 between 7:30 a.m. and 7:00 p.m. CT, Monday through Friday, with any questions or concerns you might have.
The FDA strongly encourages anyone experiencing symptoms such as "vaginal injury, (pain, bleeding, or discomfort), vaginal irritation (itching or swelling), urogenital infections (bladder and/or vaginal bacterial and/or yeast infections), or other symptoms such as hot ashes, abdominal pain, nausea, or vomiting" as a result of using the recalled product to seek medical attention immediately.
Again, make sure, if you do own a box of the U by Kotex Sleek Tampons, Regular Absorbency, that you check the lot number ASAP. If you've already tossed your box and have any loose tampons lying around, you might want to pop by your local pharmacy and pick up another type of feminine product to use during your next cycle. Better safe than sorry, right?