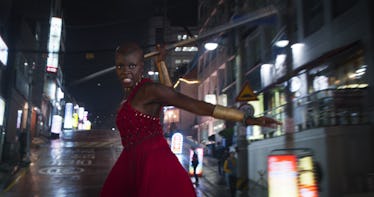 Here Are All The 'Black Panther' Characters Returning To The Big Screen For 'Infinity War'
Marvel
Black Panther has smashed box office totals both domestically and around the globe in just four days of release. Its four-day weekend total came to $242 million, beating out expectations by a country mile. Its three-day weekend total has been certified at $202 million, putting it ahead of every Marvel movie opening weekend, save one: The Avengers in 2012 ($207 million.) It beat Avengers: Age of Ultron ($191 million.) Already the marketing for Infinity War is retooling, with the MCU announcing today which Black Panther characters are in Avengers: Infinity War, giving fans of the new movie a reason to come back to the theaters and visit Wakanda again.
Avengers: Infinity War represents the pinnacle of Marvel's journey over the last ten years. The first goal in Phase I was to get to 2012's The Avengers and bring remarkable people together to see if they could become something more at the box office. Since then, the goal has been to arrive here: The ultimate superhero crossover movie. A film containing all the major characters spanning the last 10 years and 19 films in a two-parts-spanning-two-years extravaganza that will end the franchise as we know it, and begin the next chapter.
To say that it would be embarrassing for this film to not achieve the same level of box office success as a mere standalone just did... Perhaps that's a bit of a stretch, but not much. (On the other hand, the fact that Black Panther made more in one four day weekend than Justice League did in their entire domestic run in U.S. theaters? That's just sad.)
Who from Wakanda will be back in the theaters in all of 11 weeks to help fill out the comically enormous cast of Avengers: Infinity War? We already know from the trailer above that T'Challa will have a role. But who else do we see?
Quite a bit of this trailer shows that look as if they are in the Wakandan countryside. We see the border tribes readying for war, and we see Bucky Barnes standing proudly next to them. But those aren't the border tribes of W'Kabi. Sadly, we do not see Daniel Kaluuya as part of the cast. Instead, it looks like the army fighting with T'Challa is that of the Jabaris, and their leader, Winston Duke's M'Baku. That would make sense since they were the ones to come to T'Challa's aide, he would most likely reward them with a high ranking position in Wakanda's hierarchy.
Finally, in the big run shot, we see running beside Black Panther our favorite Dora Milaje, Okoye.
So we know that Chadwick Boseman (T'Challa) and Danai Gurira (Okoye) are back. The reveal disclosed that T'Challa will be bringing the women of his family with him. Both his mother Queen Ramonda (Angela Bassett), and his sister Shuri (breakout star Letitia Wright) will be back as well.
That last announcement will have fans screaming. Shuri was the surprise hit of the Black Panther cast, her teenage joy of discovery and science would be a perfect foil for know-it-all aging white dudes like Robert Downey Jr.'s Tony Stark, and Mark Ruffalo's Bruce Banner.
Not only that, but fans have also been calling for a meet-up between Shuri and Peter Parker, the other teen whiz introduced to this world of superheroes. Perhaps Marvel should save that meeting for a film down the road because that much awesome in one movie might accidentally break the fandom into little pieces of joyous glee. But it's definitely a meet up that fans need to see, and soon.
Avengers: Infinity War arrives in theaters May 4, 2018.