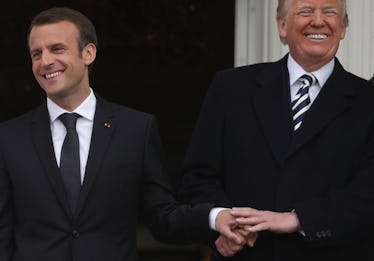 The Tree That Trump & Macron Planted Is Gone, So I Guess That Friendship Is Done
Alex Wong/Getty Images News/Getty Images
The Trump administration held its first-ever state dinner on April 24. Leading up to the dinner, President Donald Trump and first lady Melania Trump welcomed French President Emmanuel Macron and French first lady Brigitte Macron to the White House for an official visit. Among the festivities, Macron brought a sapling tree as a gift, which the two presidents made a big deal of planting on the White House lawn in an awkward photo op. But now, weirdly enough, it seems to be missing. So where's the tree that Trump and Macron planted? This doesn't bode well for their friendship.
During Macron's state visit on April 23, just before the state dinner, he gifted Trump a European sessile oak tree sapling which the two presidents planted on the White House South Lawn. Macron tweeted a video of he and Trump planting the tree and wrote what it symbolizes. The tweet said,
100 years ago, American soldiers fought in France, in Belleau to defend our freedom. This oak tree (my gift to @realDonaldTrump) will be a reminder at the White House of these ties that bind us.
But now, according to the BBC, that tree appears to be missing from the lawn. Photos of the spot where the tree was planted reportedly show just a small patch of yellow grass — and definitely no tree. Awkward.
The White House did not immediately respond to Elite Daily's request for comment on the fate of the tree.
The sapling was from the site of the famous World War I Battle of Belleau Wood, where approximately 2,000 Americans died in the summer of 1918, a century ago. It was a fitting gift to symbolize the growth of the relationship between France and America, and to boot, it seems like the tree meant a lot to the French president. So the fact that it's missing does not bode well for their "friendship."
I use the term "friendship" loosely because the two presidents don't exactly see eye-to-eye on political issues like the Iran nuclear agreement, despite the bond that Trump insists they share. During the welcoming ceremony on April 24, Trump and Macron exchanged handshakes and kisses, and Trump said, "It's an honor to call you my friend," according to Time.
Trump's idea of friendship, though, isn't always the most supportive. In order to show a little light-hearted camaraderie, at one point during the April 24 press conference, Trump flicked some dandruff off Macron's suit jacket (in front of a room full of press, might I add). Trump said,
We have a very special relationship; in fact, I'll get that little piece of dandruff off. We have to make him perfect — he is perfect.
What? Listen that's all cool when your BFF tells you there's toilet paper on your shoe when you come out from a bar bathroom, but maybe not as cool when it's one president publically calling out another president for having dandruff. Am I alone here?
Trump's idea for Macron's visit was clearly about trying to show off their bond, but Macron had a bit of a different agenda.
On Wednesday, April 25, the day after the French state dinner, Macron gave a speech to a joint session of Congress on the House floor where he differed from Trump on a whole lot of major issues, according to CNN.
Macron did a little ballet of veering away from Trump on policies, while also making sure not to be harsh towards the president. The most obvious and pressing was the Iran nuclear deal, a deal that Trump has blasted but Macron is in favor of. Of the Iran deal, Macron said,
We signed it. At the initiative of the United States. We signed it — both the United States and France. That is why we cannot say we should get rid of it like that.
Macron also put Trump on blast for withdrawing the United States from the Paris agreement, under which countries pledged to reduce carbon emissions in order to try to stave off drastic global climate change. "Let us face it: There is no Planet B," Macron said. "I am sure one day the United States will come back and join the Paris agreement."
"Let us work together in order to make our planet great again," he added as a slight nod to Trump's slogan.
Awkward. Macron basically paid lip service to friendship while completely condemning Trump on some major issues.
So maybe the missing tree will just be the final nail in the coffin of Macron and Trump's presidential bromance? Grab your popcorn, folks, because it'll be interesting to see how this unfolds.