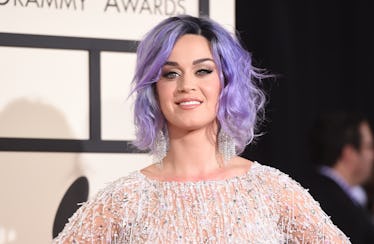 Katy Perry Was Totally Missing From The Grammys & Fans Want Answers
Jason Merritt/TERM/Getty Images Entertainment/Getty Images
Katy Perry is no stranger to the Grammy Awards. Since her emergence as a pop music icon in 2008 with the release of chart-busting track "I Kissed a Girl," Perry has landed herself 13 Grammy nominations. Unfortunately, she has yet to take home a win. Following the release of her 2017 album Witness, Perry has a lot to celebrate. So is Katy Perry at the 2018 Grammy Awards? It doesn't look like it.
Perry was a no-show at the Grammys red carpet, despite rumors that she was going to perform being passed around on Twitter — including one fan claiming that Perry could be seen in the event's seating chart. So, I guess she could be sneaking in? Either way, we missed out on her red carpet personality. More's the pity.
Perry's first taste of the famous music awards show came in 2009, when her single "I Kissed a Girl" was nominated for Best Female Pop Vocal Performance. Since then, Perry has scored consecutive Grammy nominations from 2009-2015, her most recent being for her album Prism and single "Dark Horse."
From over the top ensembles to famous stage performances, Perry knows how to impress at an award show. She delivered a politically charged performance of her single "Chained to the Rhythm" at the 2017 Grammys on Feb. 12. Despite the reaction, Perry is not performing at this year's award show.
Fans were confused, and less than pleased about the fact she wasn't around.
Despite the string of past nominations, Perry was nowhere to be found on this year's Grammys list. This may come as little surprise to some, but her most recent project Witness, which was released on June 9, 2017, received mixed reviews by the public and music channels. In an interview with Ryan Seacrest, Perry described her project as "purposeful pop," but unfortunately the album didn't quite hit the mark for some.
While her album may not have received much acclaim from music audiences, Perry certainly received some garnered attention from the public. Her first album single "Bon Appetit," which features rap group Migos, drew some conflicting opinions on which direction Perry was taking her music career this year.
In addition to "Bon Appetit," Perry also released a presumed Taylor Swift diss track titled "Swish Swish," which only added fuel to the drama bubbling between the two pop stars. And, just to take it to the next level, Perry unveiled a platinum blonde pixie cut in May 2017 that shocked nearly everyone.
Despite her international commercial success, Perry has drawn serious criticism from various communities over the past few years, claiming that the singer regularly "appropriates" cultures and minority groups. Perry has further discussed her struggle with the criticisms in the Pod Save The People podcast. While sitting down with host DeRay McKesson, Perry relayed her experiences with coming to understand others' points of views.
She said,
I've made several mistakes. Even in the 'This Is How We Do' video with how I wore my hair and having a hard conversation with one of one of my empowered angels, Cleo, about what does it mean? Why can't I wear my hair that way? Or what is the history behind wearing my hair that way? And she told me about the power in black women's hair and how beautiful it is, and the struggle. I listened and I heard and I didn't know. And I won't ever understand some of those things because of who I am. I will never understand, but I can educate myself and that's what I'm trying to do along the way.
This is certainly a step in the right direction for Perry. Perhaps she'll take these newfound revelations and channel it into her music. Here's to a possible Grammy nomination in 2019!