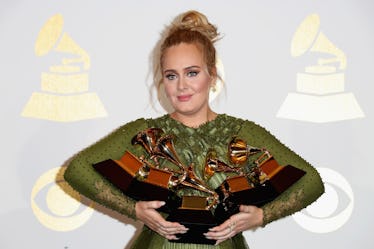 These Tweets About Adele Skipping The Grammys Show Fans Really Miss Her
Frederick M. Brown/Getty Images Entertainment/Getty Images
It's Grammys Sunday, people! The 60th annual Grammy Awards are going down tonight, Sunday, Jan. 28, and as musicians spent this past week getting ready for their performances, the rest of us were busy making our predictions about who's going to win big, who's going to go home disappointed, who's going to show up, and who's going to sit this year out. One person some people wanted to see but seems to be a no-show now is last year's big winner. Where is Adele at the 2018 Grammys? Well, uh, she's not there, fam. But after winning last year's biggest awards (and famously dedicating her Album of the Year speech to Beyoncé), it makes sense that she's not there. Seeing as the singer didn't release any new music in 2017 and wasn't nominated for any Grammys as a result, there's no point in going. Still, there was a possibility she would be there to present an award, or go just for the fun of going. But Adele rarely attends award shows when she's not up for something (to be fair, there really isn't any other point to go, and even then some artists choose to skip), so it should come as no surprise that we aren't seeing her tonight.
Adele's Album of the Year speech dedicated to Beyoncé was one of (if not the) highlight of the 2017 Grammys. OK, I take that back, Beyoncé performing "Love Drought" and "Sandcastles" while pregnant was the highlight, but Adele's speech was an extremely close second. The singer had just won Record of the Year for "Hello" and was backstage as the Album of the Year winner was announced. She instantly started crying when her album's name, 25, was called. When she got on stage, she gave an emotional speech about how becoming a mother made her lose part of herself, and how coming back to the Grammys this year made things feel full-circle.
Even though she had a huge year at last year's Grammys, fans wanted to see Adele at the 2018 Grammys and are now making jokes about her absence.
She didn't release any music this year, though, so let's just watch her 2017 Grammys speech instead.
She said, "As you can see it took an army to make me strong and willing again enough to do it. But thank you all from the bottom of my heart. Five years ago, when I was last here, I was pregnant, and I didn't know. And I was awarded that shortly after — I found out shortly after, which was the biggest blessing of my life." She continued, "And in my pregnancy and through becoming a mother I lost a lot of myself. And I've struggled, and I still do struggle being a mom. It's really hard. But tonight winning this kind of feels full-circle, and like a bit of me has come back to myself." That's when she brought up Beyoncé. She said, while speaking directly to the Lemonade singer (who was sitting in the front row next to JAY-Z),
But I can't possibly accept this award. And I'm very humbled and I'm very grateful and gracious. But my artist of my life is Beyoncé. And this album to me, the Lemonade album, is just so monumental. Beyoncé, it's so monumental. And so well thought out, and so beautiful and soul-baring and we all got to see another side to you that you don't always let us see. And we appreciate that. And all us artists here adore you. You are our light. "And the way that you make me and my friends feel, the way you make my black friends feel, is empowering. And you make them stand up for themselves. And I love you. I always have and I always will. Grammys, I appreciate it. The academy, I love you. My manager, my husband and my son. You're the only reason I do it. Thank you so much. Thank you very much to everybody.
Fans had the best reactions to the speech.
So yeah, it's no surprise Adele didn't come to the Grammys this year after such a dramatic 2017 show. But here's to hoping she won't wait years before making new music again so we can see her at the Grammys in the near future! Because let's be real, the names Adele and Beyoncé are just synonymous with the word "Grammys" at this point.