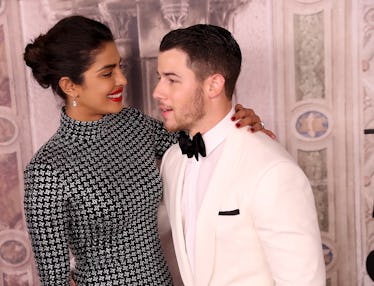 Priyanka Chopra Just Revealed Some Details About Her Honeymoon Plans With Nick Jonas
Rob Kim/Getty Images Entertainment/Getty Images
If you're still not over the gorgeousness that was Priyanka Chopra and Nick Jonas' wedding, you are not alone. Their whirlwind romance seemed straight out of a fairy tale, and their wedding was equally as stunning. Let's just say that these two did not disappoint. Now that their wedding weekend has come and gone, the next most important thing on their to-do list is their honeymoon. So, when will Priyanka Chopra and Nick Jonas honeymoon? And where exactly are these two lovebirds planning on going? Well, according to Priyanka, there are just a few details that need to be ironed out.
On Dec. 5, just days after her wedding festivities ended, Chopra was back to work, interviewing for India's NDTV. Let that sink in for a minute, you guys. This girl clearly means business if she's back at it before her floral bouquet has even started to wilt.
She revealed some honeymoon details, but explained that her and her new husband will be delaying their honeymoon. "My work and Nick's work are very important to us," she said, explaining that she already committed to the Bumble launch party that she was attending in New Delhi, India, before setting her wedding date. She continued, saying,
My commitments matter to me a lot. My word is my bond. And we had decided to do this a long time ago before anyone was getting married and so I stuck to my commitment. But besides that it's something I'm really excited about as well.
Can we just give this girl a round of applause for literally squeezing in the most special day of her life in between work commitments, because that's how dedicated she is?
Legendary.
Regarding their actual honeymoon, Chopra notes that even though they are postponing it, she's still excited for it — whenever and wherever it ends up happening. That's right, fam, Chopra has zero clue about where she's going. When told her fans wanted to know the location, Chopra replied, "Me too!" adding that she has "no idea"... but that her husband may be surprising her. She said,
I have no idea. Right now, I have just work commitments this whole month with shooting and doing a lot of work with Bumble and a few other ad commitments that I have. And I don't know. We still haven't figured out where. I think it's going to be a surprise though. I think that's what my husband's planning.
Um, I'm sorry. Is Priyanka Chopra telling us that Nick Jonas is going to whisk her away on a surprise honeymoon at an undisclosed location?!
Veryyyy sneaky. Very sneaky indeed.
Since it looks like we'll have some spare time before the new Mr. and Mrs. Jonas head out to celebrate their nuptials, I'll just be watching the video of Priyanka walking down the aisle in her magical wedding gown and 75-foot veil on a repetitive loop:
Don't @ me. You know you'll be doing the same exact thing.
Let's wish the newlyweds nothing but love... and an extravagant, over-the-top honeymoon that we can all live vicariously through.