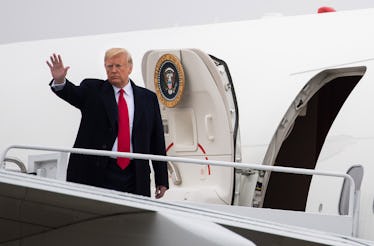 Trump Is Going To Mar-A-Lago For Thanksgiving While He Has Troops Stay At The Border
Pool/Getty Images News/Getty Images
Happy Holidays, folks! As we gather 'round our dining tables, happily feasting on turkey, honey-baked ham and mashed potatoes and sipping the finest craft beverages, President Donald Trump is heading off to spend his Turkey Day at a familiar place. Where will Donald Trump spend Thanksgiving 2018, you ask? Take a wild guess.
According to Newsweek, it's certainly not the White House. Instead, Trump will reportedly spend the holiday at his Mar-a-Lago luxury resort in South Florida. The estate is seemingly one of Trump's favorite destinations, as he's traveled there for weekend getaways and golfing trips on multiple occasions, so it might not be totally surprising that he's reportedly spending the holiday there. What's causing controversy, though, is the fact that Trump will reportedly be on vacation with his family while thousands of military troops will be away from theirs, stationed at the U.S. southern border instead. Elite Daily reached out to the White House for further comment and confirmation of Trump's reported plans, but did not hear back by the time of publication.
Just before the Nov. 6 midterm elections, Trump deployed a number of troops to the border — a move he said was to confront a migrant caravan from Central America traveling to the United States. According to The New York Times, there are at least 5,600 troops that will likely spend the holidays in tent cities with little electricity, no combat pay, and eating MRE rations (in other words, ready-to-eat foods — hardly a turkey dinner). The deployment is scheduled through December 15, per Newsweek, so it seems like there's not even a chance of troops being able to feast with their families. Meanwhile, if previous menus repeat, Trump will be enjoying 24 dishes, including turkey, red snapper, ahi tuna martinis (???), beef tenderloin, and "three-layer Trump chocolate cake."
On Saturday, Nov. 17, Trump doubled down on keeping troops at the border, despite calls to bring them home, saying they would be stationed "as long as necessary." He added that troops had constructed a "very beautiful fence," The Hill reported.
"The fence is fully manned, nobody gets through," Trump said. "When they're caught, they're not released."
The backlash over the decision has been overwhelming.
Sen. Brian Schatz (D-Hawaii) tweeted a plea to send the troops home, saying they were deployed "for no national security reason." He wrote:
Deploying troops to our own border for no national security reason is one of the biggest scandals of this Presidency. These dedicated, skilled, highly trained men and women will likely miss Thanksgiving w family, are near American cities but eating [meals ready to eat].
"Let them go home," he added.
On one hand, there could have been more troops away from their families. On Oct. 31, Trump reportedly said he wanted to send up to 15,000 troops to the border. Also, the ones who have been deployed will still be home for Christmas, according to Army Lt. Gen. Jeffrey Buchanan. So that's all at least something.