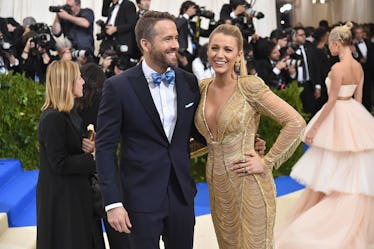 Ryan Reynolds & Blake Lively Weren't At The Golden Globes & We're Heartbroken
Mike Coppola/Getty Images Entertainment/Getty Images
The Golden Globes is always my fave awards show because 1) it's the very first one of the new year, and 2) it's basically a boozefest. You know what's better than a bunch of celebs all dressed up and riddled with nerves? A bunch of celebs all boozed up and riddled with nerves. Oh, come on — you know you agree. And while tons of red carpet royalty graced the ceremony, there was one couple who was notably MIA. Where were Ryan Reynolds and Blake Lively during the Golden Globes? Fans have so many questions for the famous duo.
The couple attended the 2017 Golden Globes, so it was pretty shocking not to see them in attendance. Since they weren't here this year, let's honor them by taking a look back at their glam style from last year, because they were definitely one of the hottest duos on the red carpet!
Who could forget Blake in her slinky black velvet and gold Atelier Versace gown, accessorized with Lorraine Schwartz jewels and a pair of Louboutins? The former Gossip Girl star looked like a straight-up goddess!
And Ryan — who was nominated for Best Actor in a Motion Picture, Musical or Comedy for Deadpool — was the perfect companion in his classic tuxedo and bow tie.
They are just so perfect, it almost makes me want to change out of my sweats and go put some makeup on. Almost.
And can we please all take a moment to realize just how far Ryan has come style-wise? I mean, just last week, the 41-year-old actor wished his fans a happy new year by posting a hilarious throwback on Instagram in which he looked more than a little like Zack Morris from Saved By The Bell.
They're basically twins, right?
"Happy New Year, everybody!" Reynolds captioned the pic. "The point is, I used to style my hair with a blowtorch."
I don't doubt it! And of course, Lively got in on the we're-so-perfect-let's-just-make-fun-of-ourselves action with her own self-effacing end-of-the-year post — a snap of herself all glammed up with the caption: "Just a little #makeupfree selfie to round out the year. #2007 #aunaturale."
Gotta love the sarcasm. And that's just one of the reasons I'm so bummed the couple decided to sit this one out.
Not only do they always look like they are having the best time, but despite their major golden couple status, they just seem so down-to-earth and real.
Remeber how Lively gave a shoutout to her glam squad on Instagram while getting ready for the big show last year, and then admitted in her caption that she "did not wake up like this" — even though I sort of think she probably did?
She also shared her excitement from the crowd in another Instagram post from the actual show, when she fan-girled out over meeting Millie Bobby Brown:
I mean, who wouldn't, right? Oh, and hi Reese Witherspoon all the way back there on the far left!
Of course, Ryan did end up losing the award for Best Performance by an Actor in a Motion Picture Musical or Comedy last year to "La La Land" star — and that other smoking Canadian actor named Ryan — Ryan Gosling.
He handled the slight like a champ, though, by sharing a big smooch with Andrew Garfield, who was nominated for Best Actor in a Drama for "Hacksaw Ridge."
Wanna see that again? Well, duh, of course you do:
Way to steal the show, guys! I really hope the three of them are at home right now recreating this moment. And if not, well, there's always next year, right? XOXO