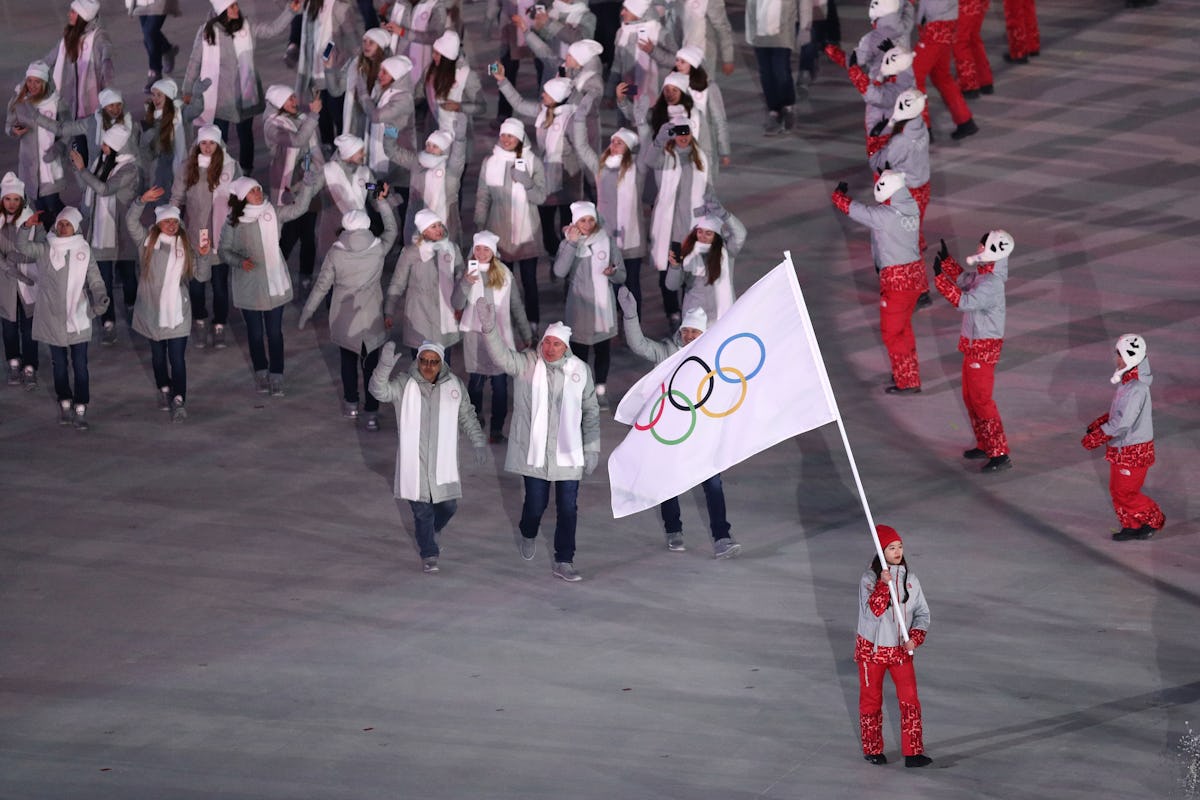 NBC Isn't Airing The Whole Olympic Opening Ceremony, So Here's How To Find It
Maddie Meyer/Getty Images Sport/Getty Images
Whether you got off work late or simply forgot to check out the Olympic opening ceremony, don't worry. It's not too late for you. You can watch the full Olympic opening ceremony, held on Friday, Feb. 9, through NBC Olympics.
In order to watch the show, simply head over the NBC Olympics' website. You'll need a TV login to watch the ceremony, but afterwards you'll have immediate access to Katie Couric's commentary, event highlights, jubilant festivities, and everything else that went down during the opening event in PyeongChang, South Korea.
The best news though, you ask? You can use their website to stream some of your favorite sports once the competitions begin. Whether you're looking forward to ice skating, curling, alpine skiing, speed skating, or biathlon, simply log back on to their website and you'll be provided with coverage until the closing ceremony takes place on Sunday, Feb. 25.
When speaking about the 2018 Winter Olympics, President of NBC Olympics, Gary Zenkel, said this year's games would be a "transformative experience."
He said,
The Olympics have long been an opportunity to showcase emerging media technology. With the help of Intel's industry-leading virtual reality technology, NBC Olympics will deliver a transformative experience that will bring to Olympic fans an entirely new perspective on the speed, thrills, and excitement of an Olympic Winter Games.
And he was right. The 2018 Winter Games' opening ceremony was filled with some of the most exciting festivities. There was a parade of the participants, an art showcase, torch dances, giant floats, and even cameos by President Donald Trump and North Korean President Kim Jong-un impersonators. And did I mention how badass Team USA looked when they walked out to "Gangham Style"? Though the competitions haven't been broadcasted yet, you can pretty much say that Zenkel's comments have already been spot on.
But one of the biggest highlights might be the fact that North and South Korea marched in the event together.
All fun and jokes aside, one of the most monumental moments of the evening was seeing North and South Korea march together under the Korean Unification Flag. Since the event is held in South Korea and the territories have a long history of opposition to another, seeing them march together was really and inspiring.
During an address to the International Olympic Committee earlier this week, South Korean President Moon Jae-in expressed his optimism on the topic. According to The New York Times, he said, "Many considered it an impossible dream to have an Olympics of peace, in which North Korea would participate and the two Koreas would form a joint team," referring to their joint women's hockey team.
Even Kim said he wanted to create a "peaceful environment" between the countries. He said,
Above all, we must ease the acute military tensions between the North and the South ... The North and the South should no longer do anything that would aggravate the situation, and must exert efforts to ease military tensions and create a peaceful environment.
Song Seung-whan, director of the opening ceremony, shared similar thoughts. He said, "As a starting point, Korea is the only divided country in the world," according to The New York Times. He added that even though they hadn't initially planned to invite North Korea that they "started with peace in mind," and took things from there.
When speaking about the territory's decision to attend the Winter Olympics, Seung-whan said, "Of course it was a surprise. It will be an opportunity for the peace we were thinking of to be shown to the world in a more deep way."
It's pretty shocking to know that so much has already happened and Feb. 9 marked the real, true first official day of the two-week-long event. At this point, who knows what fans at home can really expect, but at least we can tell that it'll definitely be a transformative experience that will keep us satisfied until the next Olympics in 2022.