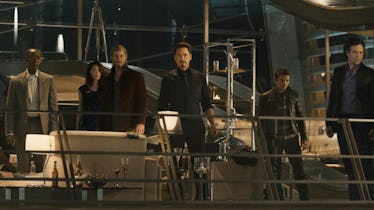 4 Ways To Stream 'Avengers: Age Of Ultron' So You're All Caught Up Before 'Infinity War'
Marvel
Avengers: Infinity War may be the biggest Marvel movie to date, even bigger than Black Panther, which broke half a dozen records in its first week of release. The 19th film in the Marvel Cinematic Universe, this "beginning of the end of Phase III" film is the culmination of the story that began back in 2008 with Iron Man. For those who need to get caught up before the film arrives, the most important film is the last time all our heroes teamed up. Here's where to stream Avengers: Age Of Ultron, as well as where to stream most of the other films as well.
Fans need to understand that there isn't an easy answer here. It's not like one can just log into Netflix or Hulu and watch all 18 films in a row in one place without paying a fee per film. That's actually deliberate on Marvel's part.
As you may have heard, Disney is currently working to create their own streaming service, like Netflix, but only Disney content. That includes not only the classic Disney archive but all the new Star Wars films (and all the old ones too, once the FOX merger goes through) and everything Marvel related, including the ABC TV series.
In preparation for that, they've cut off the deal with Netflix they had signed back in 2016, and they're not extending any other deals they currently have going once they end (like TBS or HBO/Cinemax). That means any film which was part of a deal that ended already is only available streaming for rent until the Disney service launches. That includes everything from Phase I except The Incredible Hulk.
So if you're looking to stream the original Iron Man or The Avengers from 2012, they only way to do so is via streaming rental. For Avengers: Age of Ultron, there a luckily a few more options. Let's run them all down.