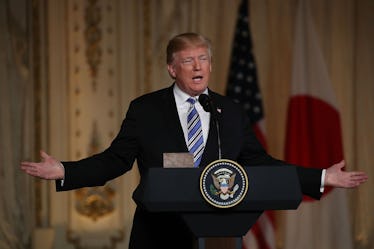 There Are Going To Be Major Protests If Trump Fires This Person
Joe Raedle/Getty Images News/Getty Images
President Donald Trump has tools at his disposal to force an ouster of Special Counsel Robert Mueller, which would effectively interrupt ongoing investigations into his former campaign officials' alleged ties to the Russian government. Whether he will exercise that power is about as predictable as anything Trump has done thus far, but hundreds of thousands of people already plan to take action if he crosses that line. Here's where to protest if Trump fires Mueller, because it'd be a big deal.
Trump was asked at a news conference on Wednesday, April 18, if he was considering firing the special counsel. He said of the investigation "we are hopefully coming to the end. It is a bad thing for our country. Very, very bad thing."
But Trump stopped short of saying that it would end at his hands. "They've been saying I'm going to get rid of them for the last three months, four months, five months, and they're still here," Trump said.
For months now, as speculation has ebbed and flowed about Trump's intentions surrounding the Mueller investigation, activists have been organizing a massive web of protests across America — ready to take place at a moment's notice. The protest details are hosted on MoveOn.org, a nonprofit organization that focuses on "nonpartisan education and advocacy on important national issues," per its website.
Crossing any of these three "red lines" would trigger nationwide protests, according to the organizers' website: (1) Trump fires Mueller, (2) Trump pardons key witnesses, (3) Trump in any other way tampers with the independent investigation. There are already more than 800 events listed across all 50 states, with more than 350,000 people RSVP'd. Major cities like Seattle, New York, Los Angeles, Chicago and Philadelphia are some of the larger events, but there are also events planned for more rural areas in Montana and the Dakotas.
The date and time of the protests will depend on the time news were to break that Trump has fired Mueller, or has crossed any of the other "red lines." If the news breaks before 2 p.m. local time, the protests scheduled in your area will start at 5 p.m. local time, per the organizers' website. If the news breaks after 5 p.m., the protests will begin at noon the following day.
Activists recommended that those interested in protesting RSVP on the event page of their location, so that they can maintain a line of communication and stay organized. It's also impossible to predict how this will all actually play out, and there are likely to be more unplanned, less-organized protests triggered by Trump's firing of special investigators. It's important to note that a protest of this scale in America could be unprecedented, unpredictable, and potentially dangerous.
The Washington Post reported on Thursday, April 19, that Pittsburgh police were readying "riot gear" in the event of a massive protest triggered by Trump's potential actions.
The Post verified that an internal email from Victor Joseph, commander of major crimes with Pittsburgh police, said that the department was preparing for a "large scale protest."
"There is a belief that President Trump will soon move to fire Special Prosecutor Mueller," Joseph's email reads. "This would result in a large protest within 24 hours of the firing. The protest would be semi-spontaneous and more than likely happen on short notice."
The department later clarified that it did not have any information about the president's intentions, and that the preparations were merely precautionary.
Trump has said he won't fire Mueller, but there's good reason why people are preparing for it anyway.
The most recent examples of Trump's own words being less-than-true about staff changes in the White House are with his firing of Secretary of State Rex Tillerson and National Security Adviser H.R. McMaster.
Trump called reports that he would fire Tillerson "FAKE NEWS" in a Dec. 1 tweet.
Tillerson was fired on March 13, via another tweet.
White House Press Secretary Sarah Huckabee Sanders tweeted on March 15 that McMaster wasn't going anywhere, after a Post report suggested he was next in line to be fired.
About a week later, McMaster was fired.
None of this proves that Trump will certainly fire Mueller. It's possible that he doesn't, and the investigation continues. But Trump's own contradictions are enough to question whether he's telling the truth when he says he won't fire Mueller.