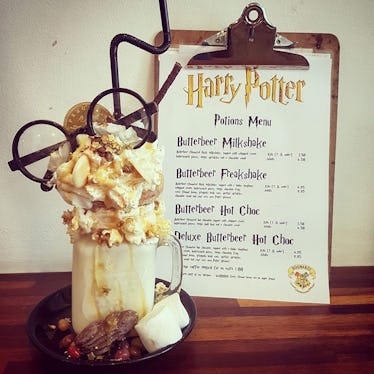 These 'Harry Potter' Butterbeer Milkshakes Oozing With Sweets Will Put A Spell On You
Pretty much any time of year is a good time to talk about Harry Potter, but there's no denying that Halloween is the perfect complement to the wizardly world. This year, you can get your Harry Potter fix in more ways than just pretending that the sorting hat put you in Gryffindor. One of the best ways I can think of is finding out where to get Harry Potter Butterbeer milkshakes to really cast a tasty spell on your tastebuds this Halloween.
According to Cosmopolitan, you might have to get your passport ready (or just catch the train at Platform Nine and Three-Quarters), because this magical treat is being served up in the UK at The Beehive Coffee House in Bristol. The café has an entire Harry Potter-themed menu happening, but the star of the show is clearly the milkshake that is overflowing with delicious treats. These aren't just run-of-the-mill Halloween sweets, though. When you're dealing with Hogwarts, you've got to keep it on theme.
According to the menu on their Facebook page, The Beehive Coffee House has two milkshake offerings. The first is called the Butterbeer Milkshake, and it is a butterbeer-flavored thick milkshake topped with whipped cream, butterscotch pieces, magical sprinkles (because, of course), and a chocolate wand. It sure sounds like a bewitching shake to treat yourself to after a hard-fought Quidditch match.
But, hold on. That was only the milkshake, and you are here for the Butterbeer Freakshake. You might want to take a seat before reading what's in this delectable concoction because it might just make you more excited than the day you got your acceptance letter to the Hogwarts School of Witchcraft and Wizardry.
OK, I think you're ready. When you order up this dessert potion, you'll get everything that comes in the first milkshake, with the exception of magic sprinkles (the "freakshake" opts for sparkly sprinkles). Then, it is topped with a Dobby doughnut, a magic chocolate frog, every flavor beans, Gringotts bank coins, a chocolate wand, and a pair of Harry Potter glasses.
I know, it's a lot, but really, when it comes to Harry Potter, can you ever actually overdo it? It's not like you have to devour it all in one sitting — you could, and that would be totally fine. But, you could also save the chocolate frog, every flavor beans, and Gringotts bank coins for a Potter snack later in the day. Plus, you get a pair of Harry Potter glasses with your freakshake. C'mon, the perfect Potter selfie is enough reason to get your freakshake on.
The Beehive Coffee House isn't only here to stuff your face with delicious treats that you'd be hard-pressed to find anywhere outside of Hogwarts. The café writes on its Facebook page that the Harry Potter love extends beyond the food and into actual magic. Now, I can't promise a personal lesson from Hermione Granger herself, but they do have magicians performing in the café on selected days. If you're in the area, plan on arriving early for those performances, because — from the looks of their Facebook posts — the place fills up fast with Potterheads.
Don't worry, though, because you still have a little while to get your hands on a Butterbeer Freakshake. On their Facebook page, the Beehive Coffee House states that the Harry Potter-themed treats will be available until Nov. 4.
While you're there, you can also check out some other Harry Potter treats that they have, such as cupcakes adorned with the likes of The Sorting Hat, owls that look like they're ready to deliver some messages, and scarves in the colors of (you guessed it) the House of Gryffindor.
Thanks to the The Beehive Coffee House, you can now get your wizarding on even if Hogwarts isn't your alma mater, and there's no better time than Halloween to practice your spells. Accio Butterbeer Freakshake!
Check out the entire Gen Why series and other videos on Facebook and the Bustle app across Apple TV, Roku, and Amazon Fire TV.