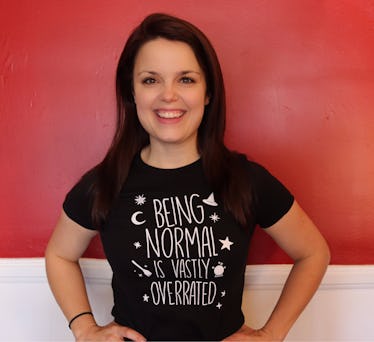 Marnie Piper Sells 'Halloweentown' Merch IRL And It'll Make Your Wardrobe So Spooky
Being normal might be "vastly overrated," but Kimberly J. Brown (aka Marnie Piper from Halloweentown) is after my witchy heart with her Etsy items inspired by the epic Disney movie and and its equally magical sequels. Brown's shop, Craftily Creative, is exactly where to buy Halloweentown merch if you still love marathoning her spots in the first three films — Halloweentown, Halloweentown II: Kalabar's Revenge, and Halloweentown High — each year. (You may remember that Sara Paxton played Marnie in the series' final film, Return to Halloweentown.)
As the OG Marnie from the '90s era Disney Channel Original Movie that started it all, Brown has a special connection to its spooky elements and most iconic quotes — e.g. "Being normal is vastly overrated," which her fictitious grandma, Aggie Cromwell (played by the late, great Debbie Reynolds), so eloquently said.
And Craftily Creative has a tee featuring that exact quote.
With cute witch-themed illustrations surrounding grandma Cromwell's wise words, the black t-shirt retails for $19.99. If that's not enough to make you click "Add to Cart" right now, the product description — penned by the former Disney Channel actress herself — is super relatable. It reads,
I probably get quoted this "Halloweentown" quote the most of all people's favorite sayings from the movies. I've also been asked before if it's on clothing. I LOVE a good simple tee with a fun saying, so I decided to create this. They are available in unisex tees or a more fitted tee for women. They are soft, too:) Please let me know if you have any questions.
I love cozy tees, too. And Brown's Halloweentown selection doesn't end there.
Craftily Creative also has a "Straight Outta Halloweentown" tee made available "due to popular demand."
She describes the design as "the classic Straight Outta Compton design, with a Halloweentown spin on it." Personally, I'd wear the heck out of both of them, because I wish I was from Halloweentown!
Brown recently met two lucky girls wearing the tees IRL and took to Twitter to share her excitement. "I appreciate fans who come 2meet me wearing shirts frm my Etsy store!" she tweeted, giving the fans, named Peyton and Myranda, a shoutout.
The actress — who is sporting quite an awesome felt witches hat in her Twitter photos — is known for keeping the spirit of Halloweentown alive more than a decade later.
For years, she has visited the real-life Halloweentown in St. Helens, Oregon for the town's annual Spirit of Halloweentown festival. Complete with a giant pumpkin in the middle, Kalabar wouldn't have a chance in St. Helens either, TBH. Even Brown thinks the Oregon town looks super realistic. She told Refinery29,
[St. Helens] looked exactly like I remembered it. Even the outside of the movie theater. They still put a big jack-o-lantern in the middle of the square like in the movie for the festival every year.
Also, if cool t-shirts aren't the kind of Halloweentown merch you seek, Craftily Creative has a few home décor pieces, too.
For example, this painted canvas with "Halloweentown" written in a creepy font.
The sign comes in various sizes and retails for $28. AND it even comes with a bonus. According to the product description, it "comes autographed on the back w/ a special message." You can even get a free autographed photo of Brown with your order if you request one!
Now that it's officially October, let us all go forth and order every bit of Halloweentown merch our haunted hearts desire. All of it would pair pair nicely with a Pumpkin Spice Latte and a Halloweentown marathon. Where's my broom?