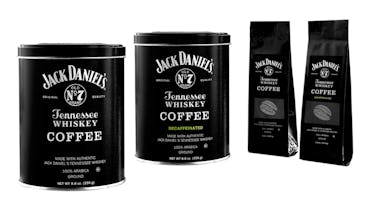 Whiskey-Infused Coffee Is Here & It'll Turn You Into A Morning Person
I'm not gonna lie: Two of my favorite beverages are by far coffee and whiskey. If I'm able to start my day with a warm latte and end my night with a Jack 'n Ginger (not every night, of course) — I'm a happy camper. Believe it or not, my two favorite drinks just merged... and now, whiskey-infused coffee is actually a thing. When I found out such a delicious combination existed, my jaw dropped. I thought, "I must add this drink to my morning routine. But first, I must figure out where to buy whiskey-infused coffee by Jack Daniel's." If you feel the same way, you also have to find out.
Luckily, there are a few places you can buy it, and the Jack Daniel's Coffee website makes your options crystal clear. To find out where you can buy a bag, simply hit the "Where to Buy" button at the top of the page. Once you click on it, the website will give you online options and in-store options. If you wish to buy it online, you can choose from Jack Daniel's Online Store, Cost Plus World Market, or Elegant Gifts. However, before you go on a mini shopping spree, keep in mind that the Jack Daniel's website will prompt you to put your age in so the company knows you're over 21 years old.
If you want to go the old-fashioned route and purchase the coffee in-store, you have a lot of options. The website lists various locations and addresses of stores you can purchase the whiskey-infused morning treat. The locations provided are in Delaware, Florida, Illinois, Michigan, Nevada, New Jersey, New York, Ohio, Tennessee, and Texas. If you aren't living in any of those states and aren't in the mood for a road trip, I'd suggest just buying it online.
Now that you know where to buy Jack Daniel's Tennessee Whiskey Coffee, let's talk about how it's actually made. According to the site, the boozy coffee is made by infusing 100 percent Arabica beans with authentic Jack Daniel's Tennessee Whiskey. Then, it's roasted to enhance the rich flavors of caramel and vanilla. I don't know about you, but I'm 100 percent willing to give this a try. I can imagine it tastes like an Irish Coffee — but, again, I won't know until I actually give it a taste.
And now, I'll answer your burning question: No, this coffee is not alcoholic — but it'll still give you a caffeine buzz. As much as I love a good whiskey cocktail, I don't exactly support starting your morning with one. Instead, the whiskey-infused coffee will feature the notes of caramel and vanilla that'd you'd typically taste with every sip of Jack Daniel's. Save the actual whiskey for the bar this weekend — your body will thank you.
If you're still totally convinced that you want to buy Jack Daniel's Tennessee Whiskey Coffee (even though it won't get you drunk), you have a few options. On the site's "Product" page, you'll see the different coffee packages you can purchase. You can buy the bags caffeinated or decaffeinated, in either an 8.8-ounce barrel or a 1.5-ounce bag (I'm going for the bigger one, obviously). The 8.8-ounce barrel is $21.95 on the site, and the 1.5-ounce bag is $6.95. Again, if you're a coffee drinker and hope to have a long-lasting supply of the goods, I'd go for the barrel.
If you decide to pick up a bottle of the actual whiskey while you're visiting the site, drink responsibly.
Check out the entire Gen Why series and other videos on Facebook and the Bustle app across Apple TV, Roku, and Amazon Fire TV.