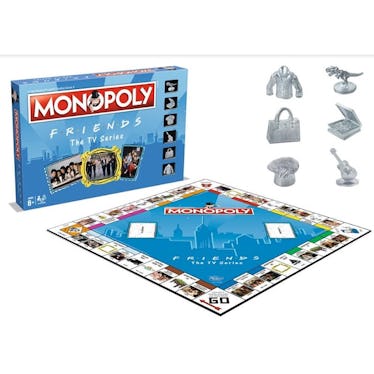 A 'Friends' Monopoly Game Officially Exists So You Can Pretend You're In Central Perk 24/7
TheWorks.co.uk
If I could, I would recreate the decorating scheme of Monica Geller's Friends apartment in my bedroom and visit countless thrift shops until I find a perfect orange couch replica. For now, those attempts may be out of my budget, but the new Friends-themed Monopoly game could be a cheaper solution for feeling like I'm living my best '90s-esque life. The board game is a bit difficult to track down, so you need to know where to buy the Friends Monopoly game before planning your next big board game.
Normally, Monopoly games never seem to end. But with the Friends twist to this new edition, I wouldn't mind spending a few hours huddled around the game board and planning out hypothetical trips to Central Perk. Allowing up to six players, the game offers tokens representing the main group of friends. To be Monica, you pick a chef hat, while Ross is obviously represented by a dinosaur. There's also Chandler's sweater vest and Rachel's handbag, while Phoebe's guitar and Joey's pizza are perfect symbols of the characters.
A shot of the game board hints at situations from the show being incorporated into the game. I even spot what looks to be one of the women in a wedding dress, so maybe Monopoly is even becoming like The Game of Life and asking players to get married. As long as the groom doesn't have a freakout a la Chandler on his wedding day, I'm totally up for a fictional marriage to pass away the time.
Although the hype for this game is bound to grow out of control, the Friends Monopoly set is actually only available to UK customers right now. Listed at a selling price of £30, the game is selling at UK-based family discount site The Works but doesn't seem to be available anywhere else. The site describes the game as a trip down Friends memory lane, saying:
How you doin'? It's time to join the legendary Friends, from one of TV's best-loved sitcoms in the Friends edition of Monopoly. Play as either Ross, Rachel, Phoebe, Monica, Joey or Chandler by choosing one of the exclusive tokens which are iconic to the gang; will it be Rachel's handbag, Ross' dinosaur, Chandler's sweater vest or even Phoebe's acoustic guitar? As you pivot around the table you will be taken down memory lane of the best memories from Friends.
Reviewers of the game also offered hints of what players can expect from the game, with one user mentioning that he "won the boat." The game must reference that time Joey won a boat because he didn't realize he actually has to pay for auction items he bids on.
Another reviewer alluded to the game using smelly cat tokens and enforcing something called Ross and Rachel jail. It's safe to say that rather than just ending up in plain old jail in this version of Monopoly, you probably end up "on a break" from the fast-paced real estate world for a while.
I don't know whether getting a smelly cat token is a good or bad thing, but I wish there was a musical component involved so the players could all sing "Smelly Cat."
It's unclear if the Friends Monopoly game will eventually make its way to the U.S., but there are definitely other solutions for TV fans that want to throw a game night with friends. Among the numerous versions of Monopoly out there, there are editions for Stars Wars, Stranger Things, Disney-Pixar movies, and more. We may all be antsy for the Friends edition on this side of the pond, but there are plenty of alternatives to hold us over until we can buy the game in the States. Until then, I'll be finding ways to incorporate Friends quotes into any and all social media posts.