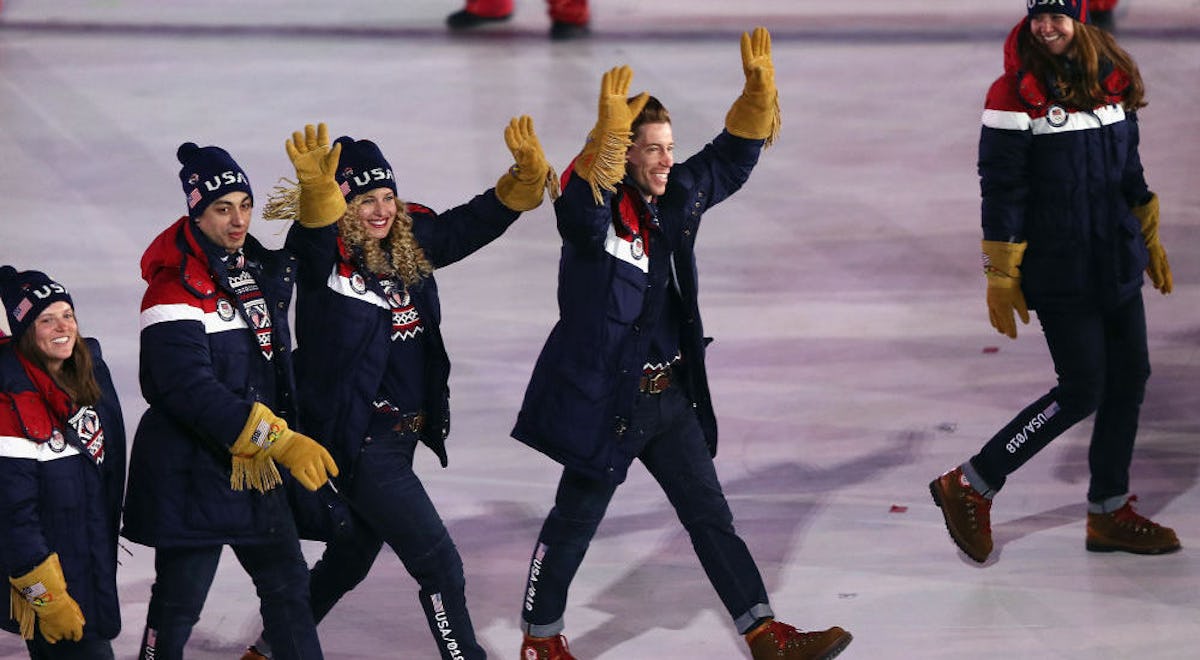 Team USA's Olympic Opening Ceremony Gloves Are Epic & You Can Get Them For $100
Jamie Squire/Getty Images
The opening ceremony for the 2018 Winter Olympics was full of eye-catching moments in PyeongChang, South Korea on Friday night, but one of the most interesting outfit choices of all was the fringed gloves that Team USA wore while marching in. Whether they loved them or hated them, viewers could not stop talking about those fringed, suede, cowboy-inspired gloves. So, where can you buy Team USA's Olympics gloves for yourself? Well, they aren't going to be easy to get, and they'll cost you a pretty penny as well.
Even among all of the superstar international athletes who appeared during the 2018 PyeongChang Winter Olympics opening ceremony, the real star seemed to be those huge, fringed Team USA gloves. As the American athletes waved to the crowds, viewers could just see those long suede fringes flowing back in forth in the air. Of course, it is clear to see the cowboy influence on the gloves, an ideology closely associated with America uniquely. Ralph Lauren designed the gloves for Team USA, marking his latest over the course of several years designing the country's opening ceremony outfits at the Olympics.
While the gloves were a big hit at the opening ceremony, fans hoping to nab a pair for themselves may have to get creative. Reportedly, the official gloves were already on sale on Ralph Lauren's web site, but have since sold out. At the time of the opening ceremony, they are no longer even viewable on Ralph Lauren's website, and there is no note about when or if Ralph Lauren may restock. According to ESPN sports business reporter Darren Rovell, the Team USA gloves were selling for $995 before becoming unavailable:
Sooo, yeah — it sounds like you might be out of luck unless you thought ahead and already bought a pair of Team USA gloves when Ralph Lauren was still selling them. One other option that you could look into is buying a pair of gloves that closely resemble those already iconic suede, fringed gloves. Forbes recommended a company called Astis, which makes a bunch of gloves in the style of the Team USA gloves. Astis' gloves are a little pricey, with most gloves going for somewhere between $100 and $200, but if you really want to rock the Team USA glove vibe as best as you can, it's probably be best to look through the Astis online store.
Unfortunately, the only other real option is to save up a couple hundred bucks and hope that Ralph Lauren announced that the store will restock on the Team USA Olympics gloves sometime soon.
One thing that's for sure is that there is an incredible demand for these gloves. Right after the long-fringed Ralph Lauren gloves were revealed a couple weeks before the Olympics officially began, they flew out of the online store so fast that they were sold out even before viewers got to see them in action at the opening ceremonies. The gloves also instantly became a viral sensation when Twitter pretty much exploded with all sorts of hilarious memes and jokes about the unique looking gloves. The biggest joke was the fact that, as many have now pointed out by now, the Ralph Lauren Team USA gloves look pretty much exactly like the pair of gloves that Jim Carrey's character in Dumb & Dumber wears.
Although those eye-catching gloves are officially sold out, Olympics fans can still snag some of the items that Team USA wore at the opening ceremony on Ralph Lauren's online store. The knit hats, mittens, sweater, and a few other accessories that Team USA are wearing during events at PyeongChang are all still available for purchase on RalphLauren.com.