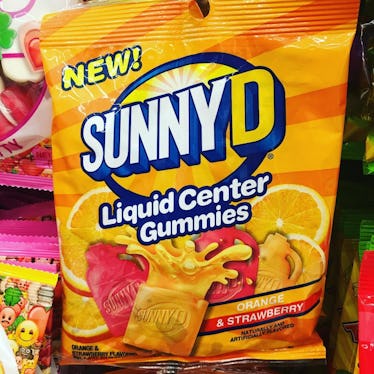 Here's Where You Can Buy Sunny D Gummies For A Delightful Taste Of '90s Nostalgia
Sunny D, '90s tween drink of the gods, has been immortalized. No longer is it just a super sweet orange-flavored drink, because guess what? It comes in gummies now. If you're wondering where to buy Sunny D gummies that are very real and not a product of your dreams, you're in luck: They're readily available!
This week, popular junk food Instagram accounts shared photos of the new candy's exciting and tangy orange-colored packaging, sending junk foodies into a frenzy. Each sun-inspired package of "liquid center gummies" contains two presumably juicy flavors — orange and strawberry — reminiscent of the drink we grew up sipping. Sunny D does have an "Orange Strawberry" flavor, so it's likely that the gummies are inspired by the red version of the juice rather than "Tangy Original". Per the label, it's also possible that each "naturally and artificially flavored" candy comes embossed with a mini Sunny D logo, making them one seriously nostalgic snack.
Where To Buy Them
In their jaw-dropping Oct. 15 post, U.S.-based Instagrammer Candy Hunting (@candyhunting) said they found the treats at Walmart, captioning their stylish photo of a hand holding a package of Sunny D Liquid Center Gummies with some bonus shopping secrets. They wrote,
New Sunny D Liquid Center Gummies are out now at Walmart! Look for them near the checkouts.
Commenters on Candy Hunting's photo reported seeing the goodies at other retailers, too. One Instagram user reported seeing them at 7-Eleven and another dropped a major bombshell, writing, "I've seen these at the 99 cents only store on and off since spring." (Excuse me SPRING? I could've been enjoying these bites of heaven since spring?!)
Similar to Candy Hunting's post, @junkfoodonthego shared a snapshot of the gummies on Saturday, Oct. 14, followed by a series of relevant hashtags like #sweet and (my personal favorite) #nomnom.
The Southern California-based foodie confirmed to Elite Daily via Instagram Direct Message that the Sunny D Liquid Center Gummies are "available at [the] 99 Cent Store as well as Walmart."
Sadly, there's no trace of them on Sunny D's official Instagram page. The brand's profile does, however, feature a very autumnal photo of a Sunny D bottle resting in a pile of red, orange, and yellow leaves. "Pumpkins aren't the only way to enjoy something orange this Fall!" they wrote beneath the shot, again failing to mention that Sunny D Liquid Center Gummies could fill the pumpkin void, too.
I, for one, can't wait to bite into the liquid center of a Sunny D gummy. Will a single nibble remind me of all the times I drank way too much Sunny D as a kid? I freaking hope so. (You know who else would appreciate these gummies? Ellen Page's character Juno character, Juno. She loves the stuff and famously "drank like, ten tons of Sunny D" in order to take three pregnancy tests.)
Aside from Sunny D's candy venture — which has apparently been available for months longer than we originally thought — the brand has undergone some changes recently. On Jan. 14, 2016, it was announced that Sunny Delight Beverages Co. was acquired by Brynwood Partners VII L.P. In a press release making the news public, Chairman and CEO of Brynwood Partners, Henk Hartong III, highlighted Sunny D's iconic brand status and exciting future under new ownership. He said,
The iconic Sunny Delight brand, with its highly recognizable bottle design, has a loyal customer following and is an important brand for retailers in the U.S. and Canada. We are also excited about the company's four manufacturing facilities as they provide Sunny Delight with significant manufacturing flexibility to provide our retail partners with new, innovative products in a timely manner.
I'm assuming one of the "new, innovative products" is Sunny D Liquid Center Gummies. (We're all so #blessed, my fellow '90s babies.)