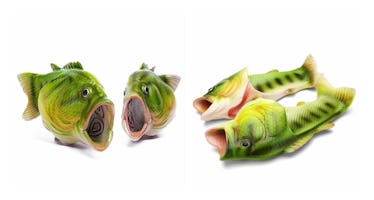 These Fish Sandals Are The Most Bizarre Pair Of Shoes & Where Can I Get A Pair?
Remember Big Mouth Billy Bass, the wall-mounted fish that sang? Now, imagine wearing him on your feet. Here's where to buy rubber fish slippers because, yes, they're a real thing, and yes, I want a pair.
In case you need a refresher about the famous fish that is Big Mouth Billy Bass, he was a fake fish mounted on a wooden plaque who sang "Take Me To The River," originally by Al Green. Billy Bass also sang "Don't Worry Be Happy," by Bobby McFerrin. Needless to say, he was a staple in basement and man cave decor in the late '90s and early '00s, and he'll always have a special place in my heart. Now that that's been established, I'm ecstatic to see the latest high-fashion footwear trend that looks just like Billy Bass! OK, it might not exactly be haute couture but my motto has always been, if you like something, then consider it fashionable.
I'm still trying to decide if I like these shoes from a style perspective or from more of a novelty point of view, but either way, they look comfortable AF and I think they're going to be my newest pool shoes and/or indoor slippers.
Fish Slippers in Green
This pair is most similar to Billy Bass, if you want to go old school.
Fish Slippers in Orange
There's also a goldfish-esque variety.
Fish Slippers in Black
A black pair is a good neutral to have.
Fish Slippers in Silver
You could go metallic with a silver style.
Fish Slippers in Pink
Try out the pink pair for a pop of color.
Fish Flip Flops in Green
There's also a true flip flop style!
Fish Flip Flops in Red
The fish slides may be more entertaining but this style might be more practical for some.
Fish Flip Flops in Pink
The flip flops come in a wide variety of colors, too.
Fish Flip Flops in Orange
Goldfish are an option.
Fish Flip Flops in Grey
These silver flip flops look super shiny.
Fish Flip Flops in Brown
The bronzed pair is rather alluring.
Fish Flip Flops in Blue
Go for a truly ocean-inspired pick with the blue flip slops.
If you think people aren't actually wearing these, you'd be very wrong.
"Qt fish slippers," tweeted one fan of the style. Cutie, indeed.
"Waiting for #Aquamanmovietrailer to be released... My Body is ready... So much excitement," one fish fanatic wore them as part of his Aquaman fandom outfit.
"What funky fresh fish slippers my friends papa got," honestly so funky fresh.
"BTOB Sungjae has on the fish slippers!" Korean celebrity Yook Sung-jae from the boy group BtoB wears them, and if that doesn't scream "trend-setter" I don't know what does.
"Fish slippers. Oh, yes," wrote one aquatic sandal lover.
"If I don't get a pair of fish slippers I will be outraged," proclaimed one excited shopper. This is proof that these shoes have been on people's minds for months!
"Best Father's Day gift I've ever given #FISHflops," posted a proud daughter. Fish flops FTW.
"When you come home from work and you roomie struts through the door wearing this #inspired #fishflops," one admirer tweeted.
So fetch.
"My colleagues are hiding it well, but I know they are all jealous of my new lab footwear," the jealousy is so real.
"Fish Styled slippers!!!! Amazing!" Amazing really is the only way to describe these.
"This might be the best present I've ever received," and never did I ever think I would want "trout feet."