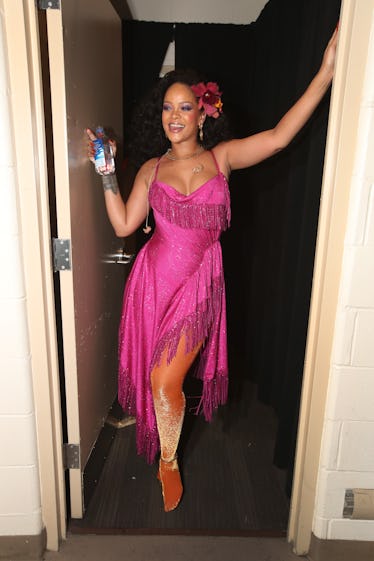 Rihanna Wore An "I Hate Rihanna" Shirt For Her 30th Birthday & That's One Way To Troll Haters
Christopher Polk/Getty Images Entertainment/Getty Images
Just ahead of her thirtieth birthday, Robyn Rihanna Fenty (First of Her Name, Queen of the Bajans, Breaker of Chains, and Mother of the fashion-obsessed) has shut down Instagram with her bold style once again. After witnessing the magic, you're probably wondering where to buy Rihanna's "I Hate Rihanna" t-shirt. Unfortunately, you won't be able to wear your royal regalia on the Bajan Princess's birthday, but you can honor her forever and always with the plucky pink top.
I declare Feb. 20 a world holiday, because Rihanna is officially turning 30. I can only imagine the "Dirty 30" extravaganza she is about to host, and I'm already experiencing serious FOMO. She took to Instagram to get all of her fans in on the fun. Rocking a Melgaard "I Hate Rihanna" shirt, ($130, thegiftshop.redbullartsnewyork.com), RiRi looks seriously boss. Underneath the cheeky slogan is the phrase, "Don't trust anyone under 30." Melgaard debuted this line as part of the larger exhibition called The Casual Pleasure of Disappointment during the New York Fashion Week, F/W 2017.
I feel personally victimized by this shirt, but I'm glad to know even Rihanna has made some bad decisions in her second decade. If Rihanna can stumble through her twenties and still be Rihanna, there's hope for us all. Maybe just maybe, our lives will be semi-functioning in our thirties.
The oversized t-shirt, besides being oh so rad, was designed to build solidarity "between older men of means against the emotional and financial exploitation perpetrated by the young." I'm a bit clueless about what that actually means, but I'll just blame that on my youth.
What I can tell you is that this millennial pink shirt is 100 percent cotton. I need ASOS or Zara to start manufacturing t-shirts with this elbow length, short sleeve-style like yesterday.
The front of the shirt displays the "I hate Rihanna/Don't trust anyone under 30" slogan.
The back of the shirt displays what looks to be a devil child.
Surprise! The shirt is actually reversible and displays a whole new design.
Rihanna haters will be annoyed, but I don't care. The Princess is killing this look. From the looks of the background, she is somewhere tropical (probably her Barbados home) and she looks like she is ready to spend the day at the pool.
As someone who's rocked cornrows and a t-shirt as a beach cover-up, I can confirm that I have never looked like this on the beach. Between the Fenty Beauty Stunna Lip Paint ($24, fentybeauty,com), the cornrows, the t-shirt, and the jewelry I can not even. The dewy skin gives away that the air is probably warm and humid, but her baby hairs are #laid. What am I to expect though, Rihanna came out the gate killing it when it comes to fashion.
She has rocked the carpet with elegant looks.
She served us high fashion eccentricity.
She has given us Presidential RiRi.
She even made all of the good girls go bad.
Anna Wintour described it best when she presented Rihanna with the 2014 CFDA Fashion Icon Award. Rihanna is not a fashion icon because she gets to pick the priciest clothes. She's an icon because she uses fashion to evoke a feeling. She tells stories with her #lewks, and takes a screenshot of the way the world is. When she went through her good girl gone bad phase, she was light-years ahead of telling women they could be who they wanted to be, and that we never have to pander to what society wants us to be.
Happy Dirty 30 Rihanna, may you continue to slay us for the rest of your blessed live.