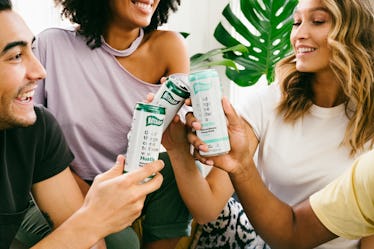 Sparkling Matcha Tea Is Here To Make Your Favorite Morning Beverage Oh So Bubbly
Judging by the Instagram accounts of our generation, it's a fact, not a stereotype, that millennials run on matcha. As is the case with most foodie trends like golden milk lattes and spirulina smoothie bowls, this bright green tea probably became popular because of its #healthylifestyle ~aesthetic~, so you might not even realize that matcha is so much more than a pretty photo prop; it's actually a very nutritious alternative to coffee and other energy drinks that get you hype, but leave you jittery. Basically, you're going to want to know where to buy MatchaBar's sparkling matcha tea this summer and beyond, because this brand's giving matcha a Mia Thermopolis-level makeover to transform your warming morning cup into a fizzy sip that keeps you cool, calm, and energetic AF.
The first time I experienced the wonder that is matcha, I ordered it on a whim at Starbucks. I knew I wanted something hot, but I was also trying to wean myself off of coffee. Rather than spend five bucks on an English breakfast tea I'd loathe to sip the second it cooled, I decided to go green. I'm sure this doesn't come as a shock, but guys, it was good — so good, in fact, that even before unbuttoning my coat, I started raving about this magical green tea latte I'd just discovered to a co-worker. She needed to know about this brilliant discovery, because maybe then I could turn her taste buds on to this sweet treat, too. But she just looked at me, both amused and baffled by my naivety, and said, "Oh, you mean matcha?" Clearly I was late to the party, but hey, at least I'd finally arrived, right?
MatchaBar's new sparkling matcha tea is the energy drink your taste buds have been waiting for.
Personally, I've yet to come aboard the iced matcha express, but that's more or less because I just prefer hot over cold drinks in general. Having said that, if you prefer sipping on something chilled to get you hype for the day, allow me to introduce you to Hustle, the latest Matchabar innovation to hit the market. According to co-founder and owner of MatchaBar, Graham Fortgang, Hustle is the world's first ever matcha energy drink that makes for a perfectly caffeinated alternative to coffee and other energy drinks loaded with added sugars and chemicals like taurine that "tear up your insides," he tells Elite Daily.
See, what a lot of people don't realize is that energy drinks might serve a purpose, but they're doing so in a way that's harmful to your body. And if you don't believe me, the next time you pick one up, check out the nutrition facts and glance over the ingredients list. You're likely going to find a whole bunch of chemicals and additives you've either never heard of, or have trouble pronouncing. What's great about Hustle, on the other hand, is that it's made from only eight ingredients, including lemon and lime extracts, cane sugar, and MatchaBar's signature ceremonial-grade matcha, as well as a hint of green tea extract to provide an extra kick of good-for-you caffeine.
"The Hustle also contains naturally occurring L- theanine, an amino acid with the unique ability to relax the mind without creating drowsiness in the user — significantly increasing alpha brainwave activity," Fortgang tells Elite Daily. "The combination of antioxidants, caffeine, and L-theanine creates a sustained energy — no crash, no jitters."
So where can you find MatchaBar's matcha energy drink, and when's the best time to get your fix?
So here's what I initially got wrong about matcha: Before I actually knew what matcha was, I tried ordering the drink decaf. Obviously, I now know that's not an option and that, in fact, matcha is just straight-up Japanese green tea leaves that have been ground up. Cosmopolitan UK reports that matcha is a source of caffeine and offers about 34 milligrams of the stuff per serving, which equates to roughly one cup of coffee and half an espresso. The thing is, matcha is a "cleaner" source of caffeine because of all the nutrients it provides, and that L-theanine Fortgang mentioned actually slows down the caffeine's release, so you'll feel energized long after you've taken your last sip.
In other words, just in case you didn't know, matcha is definitely caffeinated, so you might not want to sip an entire eight ounces of the bev before bed. Instead, Fortgang tells Elite Daily it's great to drink pre-workout, post-workout, and especially before heading into the office. Grab a can or two at Whole Foods, or you can always order a pack online at MatchaBarNYC.com or Amazon to help you stay stocked up for whenever you need a quick fix.