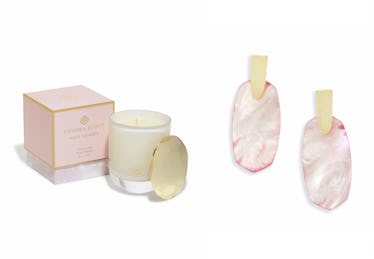 Kendra Scott's New Candles Mean You Can Wear Rose Quartz & Scent Your Home With It, Too
Courtesy of Kendra Scott
Candles are one of the most affordable luxury items that a person can (and should) indulge in. Light up a scented candle and you instantly transform your space into what feels like an exclusive spa. And now, everyone's fav jewelry brand is getting in on the relaxation: Here's where to buy Kendra Scott candles because the only thing better than your favorite scent is a beautifully designed candle and jewelry to match!
Kendra Scott is an Austin, Texas-based lifestyle designer who is widely known for her beautiful jewelry. Scott designs everything from statement earrings to nail polish and home decor, and most recently, scented candles. The theme throughout most of Scott's designs is alluring gemstones and this motif continues throughout the brand's newly launched line of candles.
Scott partnered with fragrance expert Ann Gottlieb (who was mentored by the actual human Estée Lauder) to develop her new candles. "These scents represent the multitude of memories, feelings and sensations gemstones inherently arouse," Gottlieb said in a press release.
There are four enticing candles for you to choose from: Rose Quartz, Malachite, Amethyst, and a KS Signature scent. "Each candle embodies the qualities of its namesake stone, infusing the moods and emotions of its gemstone," said the brand in a press release. Peep the gorgeous new goods below, and see how to match your jewelry to your favorite scent.
Rose Quartz Large Tumbler Candle
($65; kendrascott.com)
I like to think of rose quartz as the OG inspiration for the millennial pink trend, and the only thing prettier than it's color is the aroma from this candle. "A light, romantic bouquet of wild peony and rose petals with a sweet whisper of vanilla and raspberry nectar," as the brand describes it. Sign me up.
Rose Quartz Small Votive Candle
($25; kendrascott.com)
Each candle is also available in a smaller votive size, so you can explore the variety of incense before committing to a bigger size.
Aragon Statement Earrings in Blush Pearl
($80; kendrascott.com)
Gemstones are central to the entire Kendra Scott brand, so the new spring collection of jewelry is exquisitely coordinated with the candles. These pearlized pink earrings are v reminiscent of the rose quartz candle.
Malachite Large Tumbler Candle
($65; kendrascott.com)
Malachite is so beautiful, between its emerald green color and mesmerizing swirls, I could stare at it for hours. Or now, I can enjoy its coordinating scent! This candle is "woodsy green ivy balanced with notes of exotic frankincense and warm amber create a sultry, captivating aroma." Frankincense, while sounding like something out of Frankenstein, is known to smell of pine and lemon.
Inez Long Pendant Necklace in Abalone Shell
($90; kendrascott.com)
Kendra Scott's abalone shell jewelry matches the hypnotizing swirls of the malachite stone with an added metallic touch.
Amethyst Large Tumbler Candle
($65; kendrascott.com)
Purple is one of my favorite colors, so I'm excited about this amethyst candle. "A calm, uplifting blend of blackberry and lilac blossoms with a background of sandalwood to balance this rejuvenating scent," describes this aroma. You may have also noticed by now that the gold lid from these large tumbler candles doubles as a stand, how convenient!
Kitty Statement Earrings In Blush Mix
($150; kendrascott.com)
Between their ombre effect, statement size, and tassels, these earrings are so on trend for spring 2018. And the amethyst-inspired color will make a great 'gram with your new candle.
Signature Large Tumbler Candle
($65; kendrascott.com)
The fourth item in this collection is a signature candle that particularly resonates with the designer herself: "With subtle notes of lily and blonde woods, this uplifting scent is distinctively Kendra Scott."
Vada Pinch Bracelet in Ivory Pearl
($50; kendrascott.com)
The signature candle is great to pair with any of Scott's neutral jewelry. Plus, this pearl-colored bracelet will go with basically any other jewelry you already have.
Votive Gift Set
($70; kendrascott.com)
The three gemstone-inspired candles are also available as a three piece gift set in the smaller votive size. Mother's Day is creeping up, so I think I'll remember these come May 13.