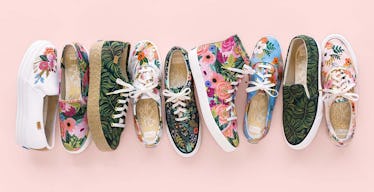 Keds Collaborated With Rifle Paper Co. & The Shoes Are So Cute, You'll Write Your Friends
Courtesy of Keds
Frilly, floral dresses and tops are a spring and summer wardrobe staple, but this year, botanical designs are moving further south. Keds, a brand best known for classic white and solid-colored kicks, is giving some of their styles a colorful makeover with flowery, stationary-inspired designs. Here's where to buy Keds x Rifle Paper Co. sneakers so you can kick it with the best of 'em.
If you're not familiar with Rifle Paper Co., it's a whimsical stationary brand founded in 2009 by a woman named Anna Rifle Bond and her husband, Nathan Bond. Rifle Bond started the company out of her garage, creating all the illustrations herself, and has turned it into a thriving business, collaborating with brands such as LeSportsac, Puffin Books, L'Occitane, and now, Keds.
"The collaboration combines Rifle's whimsical and vibrant patterns with classic and iconic Keds silhouettes. Whether you're walking around the city or heading to an afternoon barbecue, this collection has a style for all of your Spring wardrobe needs," Keds says of the new collection in a press release. The pretty pairs range in price from a doable $60-$80, you may need to act fast to snag 'em: They're limited-edition (as long as supplies last). While inspired by classic Keds' silhouettes, each style has been given a new twist, varying from floral-printed lace ups to leafy platform high-tops, all with colorful patterns and embroidery to suit every mood.
Champion Lively Floral Lace Ups in White Multi, $60, Keds
These are a riff on the Keds Champions Originals ($40, Keds), adding an injection of bold florals. All of the sneakers in the collab feature classic Rifle Paper Co. illustrations of creative florals.
Champion Lively Floral Lace Ups in Blue Multi, $60, Keds
The same original lace up style also comes in blue, mimicking the nice sunny spring day you'll be wearing these. Sidenote, because I love that blue color: Can pale periwinkle be the new millennial pink?
Anchor Lively Floral Lace Up, $70, Keds
The Anchor Lace Ups have a more substantial sole, if you need some extra support while running around town. The backdrop for these flowers is the lightest of millennial pinks — blink and you'll miss it.
Anchor Lourdes Floral Lace Ups ,$70, Keds
This black floral design is one of my favorites — it packs the brightness of spring, but still has an edge to it with the dark background color.
Tournament Lively Floral Sneakers, $80, Keds
This pair is accented with white leather for a retro, sporty effect. Don't expect to find this pair in any old shoe store, though, it's exclusively available on the Keds website.
Triple Decker Lively Embroidery Slip Ons, $80, Keds
Can't be bothered with laces? Try this embroidered platform slip-on style. Look at those cool, metallic inner soles!
Triple Decker Juliet Floral Slip Ons, $70, Keds
This über colorful platform is an absolute knockout.
Anchor Slip On Paper Palms, $70, Keds
Not into pink flowers? This black and green fauna-printed slip-on is for you.
Triple Kick Paper Palms, $75, Keds
A platform espadrille sneaker is what I never knew I needed in my life.
Kickstart Hi Juliet Floral Lace Ups, $75, Keds
High tops are the name of the game with these knockout shoes. They've even got a subtle one inch platform for extra height.
Everyday Triple Decker Hi Sneaker in Tapestry, $65, Rifle Paper Co.
Most of the sneakers are available at Keds, but this unique pair is only for sale on Rifle Paper Co.'s site. The beige platform measures in at one inch, and the emerald pattern and laces will carry this shoe through spring and summer, well into fall. Bonus: Rifle Paper Co. has a matching Tapestry Everyday Pocket Notepad that usually goes for $7 (Rifle Paper Co) but if you purchase the sneaker, you get the notepad for free!
Now I just need some Rifle Paper Co. stationery so I can write to all my friends about how awesome all these sneakers are.