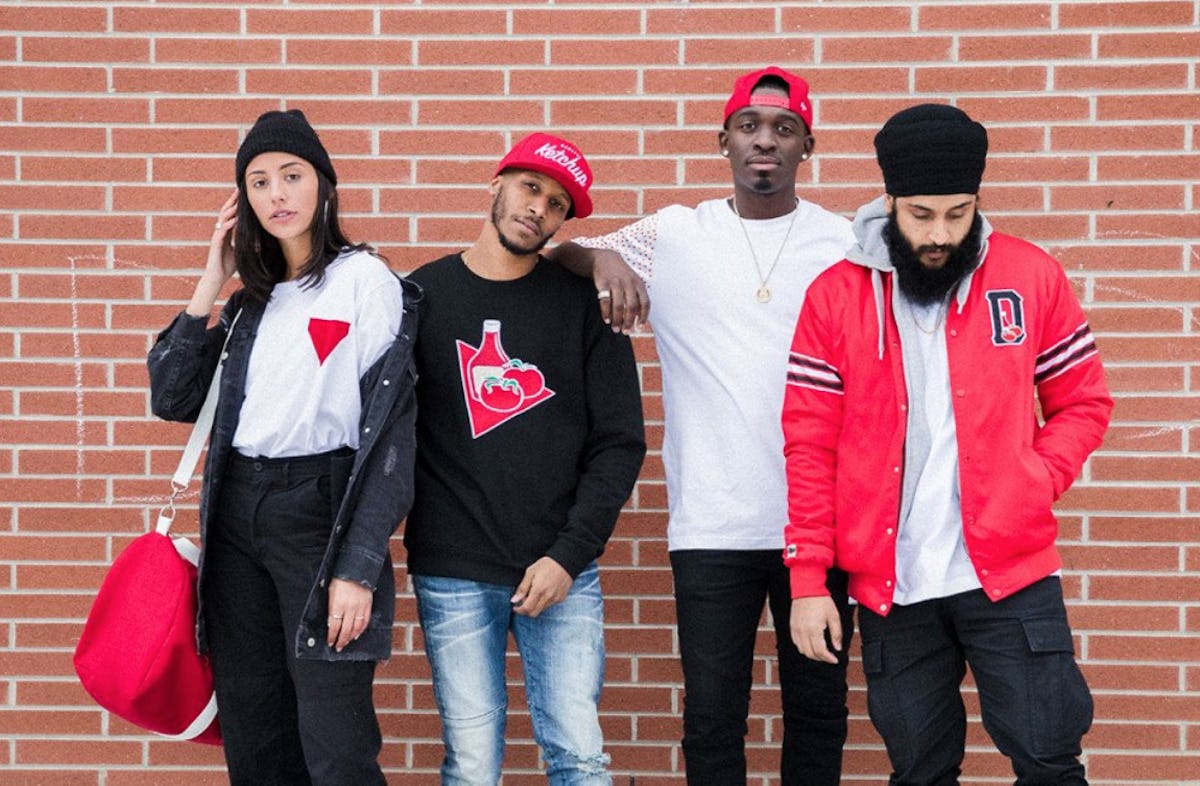 Doritos Is Launching A Clothing Line & It Will Transform You Into A Tasty Snack
I'm no stranger to having Doritos stains on my shirt. Give me a bag of Cool Ranch and a white T, and we're in danger, girl. However, I've never intentionally sported Doritos on my clothing. Thanks to Doritos Canada, now I can. Where can you buy Doritos Clothing, you might ask? I know your mouth is already watering at the mere though of such tasty gear, so I won't let you starve any longer.
Doritos Canada is launching a whole line of merch in honor of their Doritos Ketchup line, including three shirts, a baseball hat, a duffle bag, and a Riverdale-worthy varsity jacket. Now it might now be Cool Ranch-inspired (which, TBH, is a letdown for me), but if you love Doritos and you love ketchup, you're in luck!
Flavorful chip fans, you're going to have to be extra stealthy with your webpage refreshing skills. Remember the Cheetos bronzer? That snack collab beauty product sold out in a flash, faster than you can lick the Cheetos dust off your fingers. We can only imagine the Doritos line of relaxed street wear will be snagged even more rapidly. Cheetos bronzer was a tasty idea, but not exactly wearable IRL. However, the Doritos clothes are actually... cute. Definitely good enough to eat... I mean, wear.
You can view the whole Doritos Ketchup collection on the Doritos Canada website right now, but the first item won't be available for sale until 11 a.m. EST on Jan. 31. Every Wednesday for the following few weeks, Doritos Canada will release one or two new pieces of merch.
The launch begins with the release of the Doritos Ketchup Snapback ($30 CAD; doritosdrop.ca) on Jan. 31. According to the Doritos website, "A snapback should show off your love for your favourite team. And your favourite team just happens to be a bag of Doritos® Ketchup chips." I couldn't have said it better myself.
On Feb. 7, the Doritos Ketchup Crewneck ($65 CAD; doritosdrop.ca) will be released. There's no better way to keep warm than with a crew neck and a bag of Doritos.
On Valentine's Day, you can purchase this romantic tomato-embellished Doritos Ketchup Jacket ($145 CAD; doritosdrop.ca). She might be pricy, but she sure is tasty.
On Feb. 21, you can snag both the Doritos Ketchup Triangle Pocket Tee ($35 CAD; doritosdrop.ca) and the Doritos Ketchup Micro Print Tee ($35 CAD; doritosdrop.ca).
Feb. 21 is sure to be a tasty day.
Last, but certainly not least, on Feb. 28, Doritos Canada is releasing their Doritos Ketchup Duffle Bag ($50 CAD; doritosdrop.ca). According the Doritos site, this " classic red duffle bag that shows off your love for Doritos® Ketchup chips and holds a copious amount of them." So not only can you wear your foodie heart on your sleeve, you can actually carry the food with you! Genius.
The bag simple and appropriately says "Ketchup" on one side and "Doritos" on the other. Undeniably iconic.
Unfortunately, this Doritos Ketchup Clothing line is available only in Canada. Apparently, Canadians just love their Doritos smothered in ketchup, which TBH does sound very Canadian. Plus, as we Americans know, Canada always gets the good stuff: the best maple syrup, publicly funded health care, Justin Trudeau, and now this. Maybe its time to find a moose-loving pen pal in the great country to the north, or perhaps we should just all move there. Seriously, what is there to lose.
So whether you're packing up all your worldly possessions this very moment and applying for a Visa, or if you have friends and family in the Great White North, don't forget the first Doritos Ketchup clothing item launches on Jan. 31 at 11 a.m. EST. You won't want to miss this finger-licking good deal.