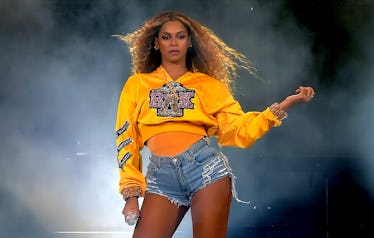 Beyoncé Dropped New HBCU-Inspired Merch At Coachella Because She Never Stops Giving
Kevin Winter/Getty Images Entertainment/Getty Images
Leave it to Beyoncé to be the queen who just keeps on giving. Aside from more music, more love, and more straight up out-of-body experiences, Queen Bey has decided to give her fans even more reason to love her: all new merchandise, which she debuted at Coachella. Even more, the potential inspiration of Beyoncé's Coachella merchandise is particularly special to black Bey fans.
Let's rewind a bit, shall we? On Saturday, April 14, Beyoncé took to the main stage at the 2018 Coachella Valley Music and Arts Festival, rightfully deemed "Beychella" once Beyoncé graced the stage, in what was literally an earth-shattering, historic performance. Not only did she gift us with mind-blowing vocals (duh), astounding choreography (obviously), and a freaking DESTINY'S CHILD REUNION (WHAT?!), she was kicking ass and taking names off the stage, too... at the merch tent. As the first black woman to headline at Coachella, Beyoncé paid homage to both her heritage and black fans with both her performance and the merch she introduced during it.
Yes, the new merchandise was not available for purchase until the start of her performance (11:05 p.m. PT), so no one could get a sneak peek at the items before her set. The college/Greek life-themed merch, as well as Beyoncé's performance itself, was seemingly a nod to historically black colleges and universities (HBCU), as well as black Greek letter organizations, according to Teen Vogue.
The performance featured sorority and fraternity themes, as well as a drumline, and as you can see in the above photos, the newer, college-inspired merch features sayings like "BEYONCÉ COACHELLA CA '18" and designs with the "Greek" letters "BΔK." In terms of prices, most items are hovering around $40 to $50, apart from a fierce varsity jacket, which is selling for $450 currently. A hefty price to pay for a jacket, but for a chance to sport the design Beyoncé flaunted on stage? Stranger things have happened.
Unfortunately, Bey's Coachella merch hasn't made it on to her website just yet, so if you're looking to buy, you have a couple options, as of now: 1) Get your butt to Coachella and run as fast as you can to a merchandise tent, or 2) text every person you know at Coachella and ask them very nicely to buy as much Beyoncé merch for you as they can. I'm not lying to you. It's genuinely not available anywhere else as of me writing this sentence.
If you weren't able to get an up-close peek at the stunning looks Beyoncé debuted on stage (same), the singer shared an exclusive look at the designs — and even the sketches — created by Olivier Rousteing, the creative director of Balmain, on her website. Have you ever seen anything so beautiful in your life? No. The correct answer is no, you haven't.
As if Beyoncé wasn't already about as magical as they come, fans also thought they noticed a true act of witchcraft during her performance. After examining photos of the act as they were available, fans realized that different pictures, which, at the time, seemed to be from the same performance, featured Beyoncé wearing two different color nail polishes — one dark and one sparkly silver.
EXCUSE ME. HOW CAN BEYONCÉ NOT ONLY MANAGE COMPLICATED COSTUME CHANGES, BUT ALSO NAIL POLISH CHANGES WITHOUT GETTING NAIL POLISH EVERYWHERE? Well, not so fast. Queen Bey may be magical, but she's not a magician.
According to BuzzFeed, the answer to the mystery was that some of the photos fans were seeing, some of which Beyoncé posted herself, actually came from Beyoncé's dress rehearsal, where she had the sparkly silver nails. The night of the actual performance, however, her nails were painted darker.
Alas, while the case of the changing nail colors may be closed, the case of "where to buy Beyoncé's Coachella merch other than at Coachella" remains wide open. Keep your eyes peeled, Beyhive. You never know where it might pop up next.