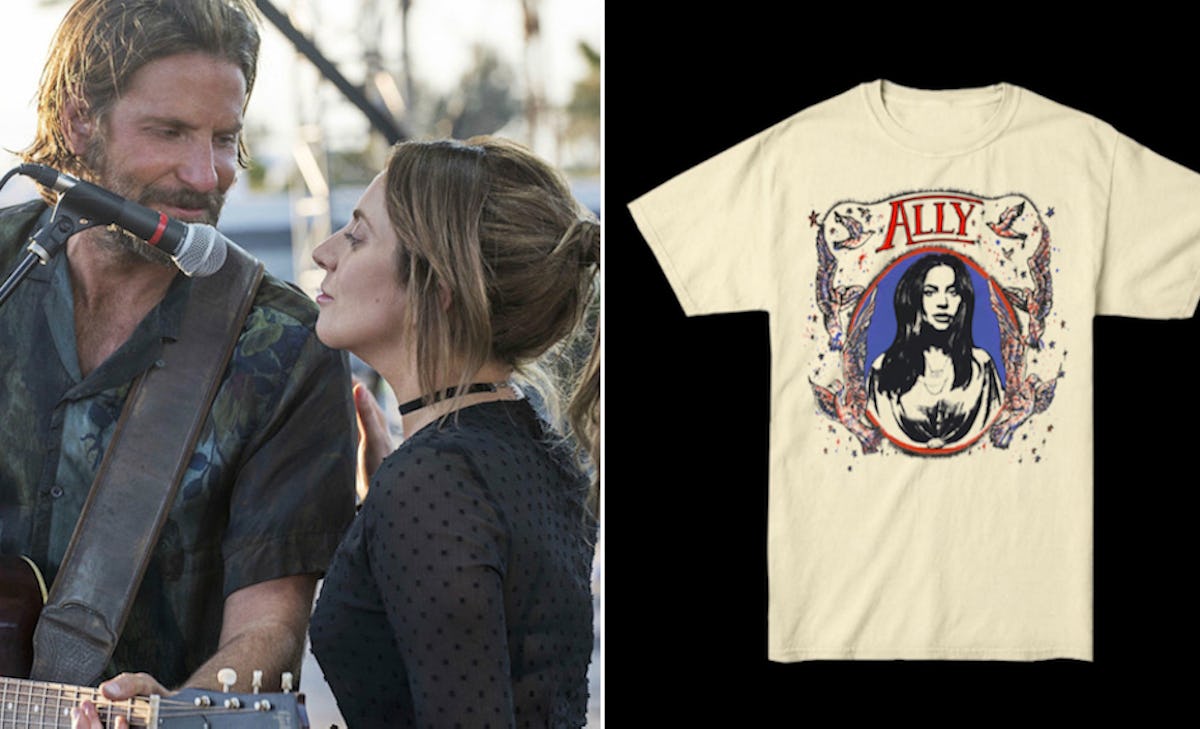 If 'A Star Is Born' Ruined You, Then You'll Probably Want To Cop This Merch & Get Ruined Again
Warner Bros. // A Star Is Born Music
On Oct. 7, 2018, I cried for 2 hour and 17 minutes straight. On Oct. 7, 2018, I understood that life as I knew it would never be the same. On Oct. 7, 2018, I saw the incredibly buzzy new film A Star Is Born, starring Bradley Cooper and Lady Gaga. And now, I'm here to tell you exactly where to buy A Star Is Born merchandise, so you can remember this love story forever, as if seeing the movie hasn't already burned an indelible hole in your heart for always and eternity.
If you haven't seen the movie, or any of the versions that came before it, I won't spoil it for you, but just know that it's going to absolutely ruin you in way that'll make you want to be ruined again and again and again. The story goes like this: Jackson Maine (played by Bradley Cooper), a very popular, edgy, rough-around-the-edges musician with a drinking problem meets Ally (played by Lady Gaga), an incredibly talented but still undiscovered singer who performs in drag bars and works as a waitress. The two hit it off instantly (duh, otherwise we would have no story) and embark on a seriously tumultuous journey, featuring the devastating effects of stardom, tinnitus (constant ringing in the ears), and substance abuse.
The film, directed and co-written by Cooper himself, garnered the interest of millions before it was even released, with a captivating trailer and truly remarkable soundtrack, featuring vocals from Gaga and Cooper. I don't know exactly who I thought I was before seeing this movie, but I do know I was only half the woman I am now having seen it. Now, as is the case with most things I obsess over, I'm ready to blow all of my money on any and all merchandise relating to this film. Luckily, the filmmakers anticipated this sentiment and have a few pieces of merch ready for any Jack and Ally shippers out there.
If you visit astarisbornmusic.com, you'll see there are five total pieces of merchandise available. If you're still not over the freaking perfect soundtrack and want a physical copy to pop into your computer, CD player, record player, or just something to clutch as you sob into your pillow after listening to the soundtrack 80 times in a row, you can download a digital copy of the soundtrack ($13), purchase a physical CD ($14), or snag an actual LP ($35).
Unfortunately, if you live outside of the US, then you won't be able to digitally download the album. Lucky for you, you can still listen to the album if you subscribe to Spotify.
But now, let's get to the best purchases of all: graphic tees. The website currently has two graphic t-shirts ($35) available — an off-white one featuring a beautiful illustration of Ally and a gray one featuring Jack tear it up on guitar. The shirts are both sized from a small to a 2XL, and each shirt also comes with a copy of the digital album as well.
Unfortunately, if you were hoping to wear these shirts, you know, like, now, you're gonna have to wait a little bit. According to the website, the t-shirts won't ship for another four to five weeks. Similarly, the LP and the physical CD aren't expected to ship for another three to four weeks. The digital album, however, is instantly accessible once you receive a confirmation email for your order, so you can just play that on repeat to hold you over.
If you haven't already seen A Star Is Born and cried your eyes out next to a stranger in a movie theater, I strongly suggest you grab the nearest tissue box and head to the next showing to watch a remarkable performance from Bradley Cooper, an unforgettable big-screen debut from Lady Gaga, and the unfolding of a love story equal parts devastating and enthralling, sure to make you rethink your entire life.