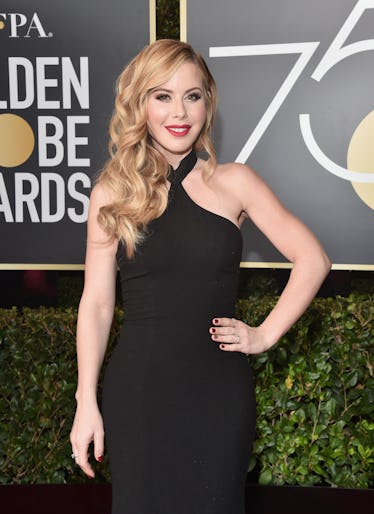 Here's What Former Olympian Tara Lipinski Is Up To Now, In Case You've Been Wondering
Alberto E. Rodriguez/Getty Images Entertainment/Getty Images
At only 15 years old, Tara Lipinski won the gold medal for figure skating at the 1998 Nagano Olympics in Japan, making history as the youngest individual to ever win gold for the Olympic Winter Games. At 15 years old, I'm pretty sure I was still playing Pokémon, so it's pretty evident that Lipinski was something of an anomaly (and I was something of a nerd). She took home first place, stunning many who believed Michelle Kwan would take the gold medal (spoiler alert: she took home silver). So, yeah, girl is pretty talented. But many people know her more for her more recent work: commentating with two-time Olympian figure skater Johnny Weir at the 2014 Sochi Winter Olympics, where the pair absolutely CRUSHED when it came to ratings for broadcasting because they were hilarious and fabulous, and brought an entirely different feel to the show. So, where is Tara Lipinski now?
Doing big things, obviously, and not just in her professional life.
According to Lipinski's personal website, she "regularly appears as a TV Analyst for the World Figure Skating Championships, the Grand Prix of Figure Skating Series and the U.S. Figure Skating National Championships" and, as a result of the positive reviews for her and Weir commentating the 2014 Winter Olympics in Sochi, the pair now work together as NBC commentators living their best life by covering events like the Rio Olympics (NBD), the Kentucky Derby (get 'em, cowgirls) and figure skating championships, because, duh.
These are two ridiculously talented besties, and if you haven't had the chance to watch these two commentating, do yourself a favor and watch the video below, where they narrate the moments leading up to Lipinski's big win in Nagano:
God bless Tara Lipinski and her '90s bangs.
While we clearly see that Lipinski and Weir share a love for ice skating, dramatic outfits, and throwing shade, it's undeniable that these two are more than just business partners, but truly two friends who have been cut from the same cloth. And in Lipinski's personal life, it's evident just how much her love for Weir is.
On June 24 of 2017, Tara Lipinski married sports producer Todd Kapostasy in Charleston, South Carolina, and had Weir as her bridesman. Hell. Yes. To show Weir just how much she appreciates his friendship, she had a boutonniere decked out in crystals to match the custom Hermés shoes she gifted him and I'm sorry, but why can't I be BFF's with Tara Lipinski? I want glittery Hermés shoes! I want crystal-studded flowers! LIFE'S NOT FAIR.
Can we just look at this boutonniere for a quick sec?
Brilliant. Gorgeous. Perfection. 10/10.
Weir told PEOPLE that he was "so happy" that Lipinski surprised him with these little details. He said,
My special flower made me so happy ... The fact that we get to work together, have adventures and laugh the whole way through it is such a special gift that I never take for granted.
He went on to hilariously reveal that his bridesman's speech was actually spontaneous and not prepared, despite promising Tara that he was working hard on the speech for months leading up to the wedding. He said,
I like to speak completely off the cuff so I didn't prepare anything. I spoke from my heart, which is the only way I know how ... I promised Tara months ago that I was preparing and scripting, but I lied to her so she wouldn't ask for a copy of the speech. I wanted her to feel what I was saying, not to have read it months prior. I wanted her to know how much I love her and how much I love Todd and their fairytale was the inspiration of my speech.
So adorable.
And Lipinski told PEOPLE that her friendship with Weir is a "bond that is hard to find." She said,
He's my very best friend ... We've been through a lot of great times and a lot of horrible times together, and I think we just have this special bond that is hard to find. I wanted him to know how special he was.
Crying.
In case you wanted to see what an Olympic skating champion looks like on her wedding day, prepare yourself for gorgeousness overload:
Are we kidding with that floral arch?
Are we kidding with this happy couple?
Most importantly, are we kidding with THAT CAKE?
Giving me life right now.
I'll leave you the only way I know how: With a Boomerang of Johnny spinning Tara around like the figure skating champions they are:
Peace, Love, & Tara and Johnny.