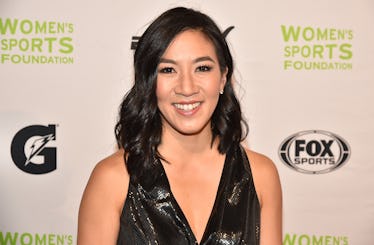 Michelle Kwan's Latest Instagram Proves The Former Olympian Is Back On The Ice
Theo Wargo/Getty Images Entertainment/Getty Images
As I watched the Golden Globes last night, I was pretty bummed I hadn't seen the movie I, Tonya yet. Not only did Allison Janney take home the prize for her supporting role in the flick, but Margot Robbie's performance as the disgraced figure skater (shown via clips during the show) looked seriously epic. And while I listened to Janney thank the real-life Tonya Harding — who was in the audience! — from the stage during her acceptance speech, it got me wondering what happened to some of my other favorite figure skaters. Like, for example, where is Michelle Kwan now?
For starters, you'll be happy to know that the five-time world champion and two-time Olympic medalist is still skating. Or maybe I should say she's skating again. Because with this winter's Olympic Games — which begin on Feb. 9 — just a month away, the retired skater thought it was the perfect time to lace up her blades and hit the rink.
"With @pyeongchang2018 right around the corner I thought it would be fun to get back on the ice," she wrote in an Instagram post that features a short video of her black-clad self serving up some awesome jumps. "This week I'm slowly breaking in new boots with @mkblades and working on my double toe loop combo 😜 #nevertooold or #tooold?"
Never too old, girl! I mean, how on-point does she look out there?
"Watch out grandma's back on the ice and trying to jump," she captioned another post.
Oh, please! I hope I look like that when I'm a grandma! Meanwhile, this week marks the 20-year anniversary of Tara Lipinski beating Michelle Kwan by a narrow margin at the 1998 Winter Games in Nagano, Japan, and Michelle's massive fan base is clearly still not over it — especially since NBC has tapped Lipinski as its skating commentator for the Olympics this year.
See what I mean? Though TBH, I'm still not over it, either. And if you want to re-watch the brilliance of her performance like I did, you can do it here. You're welcome.
Of course, it does help to know that Kwan has been totally thriving during the past seven years she's been off the ice. How? Well, for one thing, she went back to school at the University of Denver, where she majored in political science and international relations. Afterwards, she picked up a master's degree from Tufts (international relations, again), and scored a job at the U.S. State Department's Bureau of Educational and Cultural Affairs.
Not too shabby, right? And get this: Kwan later landed a role as a surrogate outreach coordinator during Hillary Clinton's presidential campaign, responsible for reaching out to celebs like Meryl Streep and Lena Dunham to speak at the Democratic National Convention.
Not gonna lie, I totally ship this!
Meanwhile, Kwan's fans have not forgotten their former ice queen, and when she turned up on the scene at Nationals last week to induct the first female president of US Figure Skating into the hall of fame, the internet basically freaked out. I am seriously living for all the resulting tweets.
Send that thing my way, girl, because I would totally sign it. I am so ready for Kwan to make a big comeback, but in the meantime, I'd settle for her coming down to my local ice rink to teach my kids how to skate.
What? She did it for Sarah Michelle Gellar. And while Guy Pewsey may think the whole Kwan-as-an-instructor thing is "extra," I think it's pretty freaking fabulous and I'm all kinds of jealous. Because while it may be 20 years later, there's no doubt the girl's still got it.