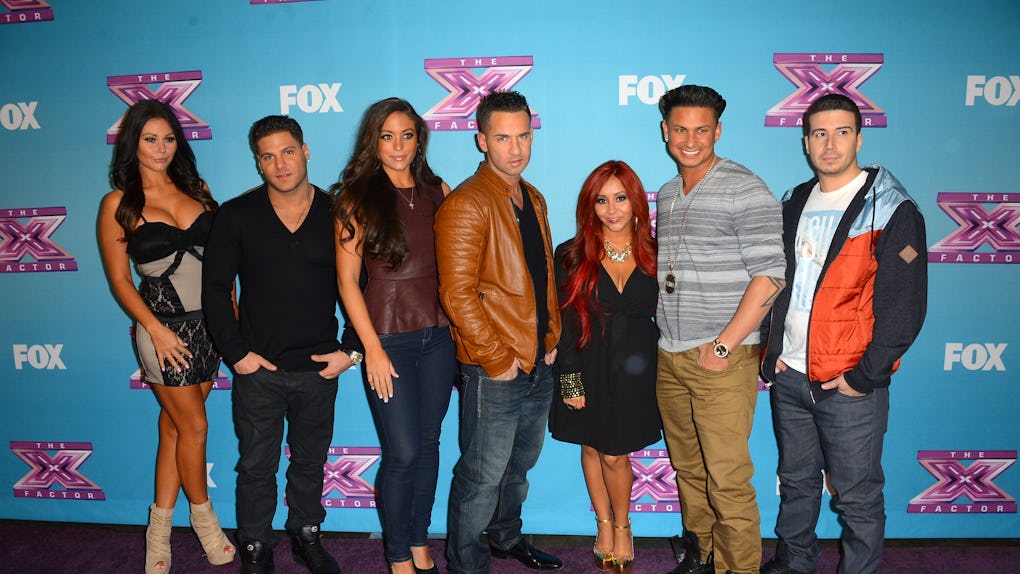 Frazer Harrison/Getty Images Entertainment/Getty Images
Where Is 'Floribama Shore' Filmed? The 'Jersey Shore' Spinoff Has Fans Ready To GTL
Calling all guidos and guidettes! As you probably already know, we're fresh off the heels of the Jersey Shore reunion special that aired this past summer and one thing is for sure: The former cast members we once idolized for calling out of work for being too hungover and puking in public have all grown up. The reunion brought together our longtime faves Mike "The Situation" Sorrentino, Nicole "Snooki" Polizzi, Jenni "JWoww" Farley, Paul "Pauly D" DelVecchio, and Sammi "Sweetheart" Giancola for a road trip down memory lane, but if that's not enough GTL for you, MTV's new Jersey Shore spinoff series, Floribama Shore is on the way, so you better get ready because it's almost tee-shirt time... again (sigh).
That's right, just when you thought the news couldn't get anymore depressing these days, I go and tell you that. The new reality series, which is set to premiere on MTV on November 27, brings together a whole new group of fist-pumping youths to make fools of themselves on national television. This time, though, the cast will be depreciating the property value in a new area: Panama City Beach.
That's right, the show will follow eight young adults on the verge of "growing up" as they spend the summer partying, drinking, and (probably) causing drama in the hottest beach town on the Gulf Coast. With only four weeks left until the debut, one thing is for sure: If Floribama Shore ends up being anything like Jersey Shore, then we're in for one hell of a messy reality show.
It's rumored that filming for the series began earlier this year in May; so far, MTV has announced the location and the cast members for its new show — Jeremiah Buoni, Codi Butts, Kortni Gilson, Aimee Hall, Kirk Medas, Nilsa Prowant, Candace Rice, and Gus Smyrnios — all of whom are 20-something Southern state natives.
If you're still reading, right about now you might be asking yourself, "What makes this show different from Jersey Shore?" Well, according to MTV's press release, Floribama Shore is,
[T]he story of eight Southern kids who come to spend the summer in the hottest beach town on the Gulf Coast, Panama City Beach, to party it up and put the real world on hold for just a little bit longer. But each is armed with incredible life experiences and standing at a crossroads, whether it's ending a relationship, tasting independence for the first time, or trying to escape the past. This coming of age story captures the very real thrill and angst of being young and trying to figure out the future with a group of people you'll come to call family.
If you're anything like me, you read that and are still asking yourself: "What makes this show different from Jersey Shore?" TBH, it looks like nothing other than the location and cast has changed. Even the latest trailer opens with voiceovers and the iconic duck phone from the original Jersey Shore.
Floribama Shore comes after MTV's latest attempt to appeal to youth culture, Siesta Key (another Florida-based reality show featuring attractive people dealing with drama), failed to reach the heights of its predecessors Jersey Shore and Laguna Beach. Though it was recently renewed for an additional eight episodes, the reality series hasn't become a household name.
The "Shore" franchise is an MTV global phenomenon, though, one which features such hits around the world like "Geordie Shore" in the UK, "Gandia Shore" in Spain, "Warsaw Shore" in Poland, and "Acapulco Shore" in Mexico, so who knows? Floribama Shore could potentially be MTV's next big overnight success show.
You can watch the eight-episode run of MTV's Floribama Shore beginning on Monday, November 27th at 10:00 p.m. ET/PT.
Check out the entire Gen Why series and other videos on Facebook and the Bustle app across Apple TV, Roku, and Amazon Fire TV.