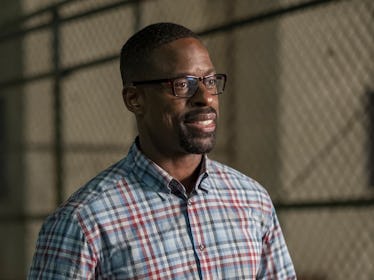 This Week's 'This Is Us' Leaves Fans Asking One Major Question About Randall
NBC/Ron Batzdorff
Although the Big Three's world shattered after Jack died on This Is Us, the teenagers still had the decision of where to go to college once they had buried their father. After visiting Howard University with Jack several months before his death, Randall found out in the Season 3 episode "A Philadelphia Story" that he had been accepted into the prestigious school. However, making a final decision about college proved to be much more complicated for the teen. Where does Randall go to college on This Is Us? The end of the show's latest episode confirms that Howard wasn't meant for him.
In the Season 2 episode "Number Three," Randall gently admitted to Jack that attending Harvard wasn't quite his big dream for college. He suggesting taking a trip to the historically black Howard University, where Keith, his childhood friend from the local pool, was a student. Respecting his son's wishes, Jack agreed to the visit and gave Randall some space at the campus, allowing him to be with people who look like him. On the way home, Randall opened up about feeling off-balance throughout his life, prompting a stop at the Vietnam Veterans Memorial. While Jack connected Randall's peculiar feeling to his own post-war experiences, he promised him that he would find his balance someday.
Thanks to this emotional father-son chat, Randall ultimately attending Howard made sense, but conflicting flashbacks and present-day clues essentially proved that Randall stayed near home for school and looked after a newly widowed Rebecca. Answering these questions about his college years, "A Philadelphia Story" initially opened on a positive note, revealing that Randall was accepted into Howard soon after Jack's death and that he couldn't be more excited about the news.
However, with the Pearsons stuck in a rental house after losing their home in the slow-cooker fire and Kevin and Kate struggling with the loss of Jack more drastically, Randall sensed that things just weren't right with his family. He called out Rebecca for lying about ensuring they would be OK without Jack, and his mother later confessed that she used every ounce of her energy just to get out of bed in the morning. While Randall was focused on his future, Rebecca remained caught up in the "what if's" of her and Jack's pre-fire decisions, including what would have happened if they decided to move before that fatal Super Bowl night.
The sight of Keith's parents at an impromptu party then triggered Randall's own memories of Jack and Rebecca together. As the episode ended, Randall called the Howard admissions office and asked the school to disregard the acceptance forms he already sent in. The heartbreaking scene backs up what viewers already knew from flashbacks — Randall and Kate stayed with Rebecca for the first year after Jack's death while Kevin left Pittsburgh ASAP.
With Howard now out of the picture, we can assume that Randall stayed in Pittsburgh for college, perhaps attending the relatively distinguished tUniversity of Pittsburgh instead. Turning down Howard seemed grim for his 1998 self, but we also know that Randall met Beth very early on in college. Considering how different his life would be without Beth is enough to convince me that everything happens for a reason, and saying no to Howard definitely leads to a life-altering reason for Randall. Regardless of what campus it bloomed on, I'm more than ready for flashbacks of Beth and Randall's warm and fuzzy college romance.
Season 3 of This Is Us continues on Tuesday, Oct. 9, at 9 p.m. ET on NBC.