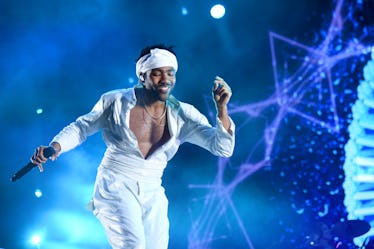 Childish Gambino Revealed Where He Got His Name From & It's Absolutely Hilarious
Nicholas Hunt/Getty Images Entertainment/Getty Images
Donald Glover, who goes by the stage name Childish Gambino, is a talented and successful musician, producer, writer and actor. With all of his accomplishments, though, you'd think we'd hear more about his fame, and yet, he's almost never seen in tabloids or in the press. That's because he's one of the few celebrities who keeps his life incredibly private, and he aims to keep it that way. Fortunately, there are a few things about his life that he has revealed to the public. One of the most pressing questions? Where Donald Glover got the name Childish Gambino to perform under. Let's be honest: his stage name doesn't exactly make sense, and yet somehow, it totally works. It's almost as if he randomly stuck two words together and miraculously, it just clicked.
Well.
That's actually not too far from the truth.
In a 2011 interview with Jimmy Fallon, he revealed that he got the name "Childish Gambino" from the online Wu-Tang Clan name generator during his college years. He said,
We were all hanging out, chilling and drinking and then we were like, 'Oh, Wu-Tang name generator, let's put our name in.' And we're putting them all in, and they're all funny and stuff, and then mine came up and I was like, 'You guys, it's not funny anymore. This is something big.' I just really liked it.
You can watch the hilarious video below, which is absolutely worth seven minutes and 13 seconds of your time:
Later, in an interview from 2016 with The Hollywood Reporter, when asked if the name-generating service was still available, Glover said,
Yeah, you can still do it. Lots of people tend to do it. If I had known it [Childish Gambino] was going to be something for real, I wouldn't have used [that name].
Naturally, I had to see what the results would yield if I entered my name, so from now on, I will only be referred to as "Wicked Desperado," please and thank you. (It's pretty freaking catchy and you can't even deny it.)
At Governor's Ball Music Festival in New York City, the "Redbone" singer shared the news that sadly, he'll be retiring his stage name and that the next album he creates will be his last, telling the crowd before he got off the stage, "I'll see you for the last Gambino album."
Ugh. But why?!
Well, because all good things must come to an end. During an event to promote his show Atlanta, Glover told The Huffington Post that he wants to leave things off on a high note. He said,
There's nothing worst than, like, a third sequel, like a third movie and we're like, 'again?' You know, I like it when something's good and when it comes back there's a reason to come back, there's a reason to do that.
He added that he felt like Childish Gambino wouldn't be "punk" moving forward, adding,
I feel like there's gotta be a reason to do things and I always had a reason to be punk. Being punk just always felt really good to me and we always looked at Atlanta as a punk show and I feel like the direction I would go with Childish Gambino wouldn't be punk anymore. As much as 'Redbone' is a punk song because it's a gospel song that's on the radio, I'm like there's only so far you can go before you just are the radio.
In a weird way, I completely get this.
So for anyone who doesn't listen to Donald Glover's music, here's a little PSA: please do so now, because you are totally going to miss it when it's gone.