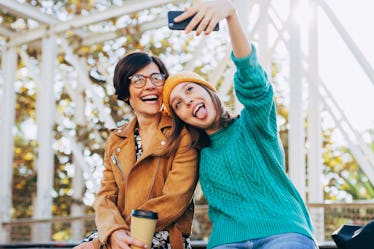 If Your Aunt Is Your BFF, You Know These 8 Things To Be So True
No offense to parents, but aunties have a way of stealing our hearts, too. Real talk: The second you experienced your aunt's dope vibes for the first time, you felt beyond blessed to have her in your life. Again, you still love your mom a bunch, but when your aunt is your best friend as well, life as you know it is so much sweeter.
Not only does this incredible human share the same bloodline, but she always has your best interests at heart. If there is anyone who can genuinely say they've known you since day one — aside from your parents — it would be her. And now that you're a grown woman, you couldn't be more stoked and appreciative that your aunt is your bestie.
Her advice is never sugarcoated, and as carefree and laid-back as she may be, she's not afraid to get a little stern with you when you need to hear her out. In other words, if your new SO isn't impressing her, she's not going to withhold her opinion. In this day and age, that kind of openness and honesty is truly valued in a friendship. She's the perfect mix of friend and family, and you wouldn't trade her for the world. You're living your best life if your aunt is your ride or die, so you know these eight things to be true.