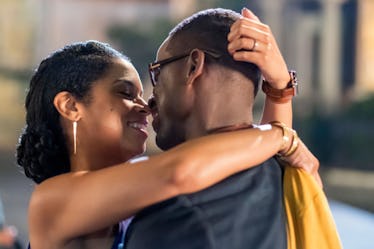 Here's Exactly When The First Episode Of 'This Is Us' Season 3 Will Pick Up
NBC
This Is Us is known for jumping timelines and bouncing around various decades, so naturally fans are curious to know where things kick off when Season 3 commences. As it turns out, the beloved drama will not throw any major surprises the audience's way in that department. In fact, it will follow the pattern from the first two seasons. When will This Is Us Season 3 pick up? Get ready to celebrate the Big 3's bithday, because they're officially turning 38!
According to TVGuide, at the Television Critics Association press tour panel on Wednesday, executive producer Isaac Aptaker confirmed that the upcoming season starts as the present-day adult Pearsons — Kate, Kevin, and Randall — head into their 38th years. The triplets were born on Aug. 31, 1980, so that sets the scene right about... well, now. Don't get confused based on that date, though — This Is Us Season 3 actually premieres on Tuesday, Sept. 25.
This is Us' 2016 pilot was the ultimate birthday episode, as it chronicled the events of what took place the very day The Big 3 were born. It also introduced the characters as they rang in the big 3-6. Last year's Season 2 opener focused on the trio turning 37 and offered up more flashbacks to Randall's adoption story. The season switched things up by not only showing the family in the past, but by giving viewers a glimpse into the future.
If you thought Season 3 might give you Randall in living in Mars in the year 2099 after being crygenically frozen, that probably won't happen — although the show does plan on continuing its flash-forwards, and it will continue to explore new story and timelines.
"We can keep growing and expanding out in time," Aptaker also said at the TCAs, via USA Today. "The challenge is to jump to decades we've never done before (and) play with the storytelling format in a more complex way."
While much of Season 2 was devoted to unfolding the events surrounding Pearson patriarch Jack Pearson's tragic death, it appears the new season will focus on his life — particularly, his life before Rebecca and his children.
"This is a hopeful season about true new beginnings," executive producer Elizabeth Berger teased.
The tearjerker of a drama will go into further detail about Jack's experience in Vietnam, an integrel element of his story that hasn't been fully uncovered as of yet.
"There's something freeing about being past the mystery of Jack's death and moving into this new chapter and getting to tell a whole and completely different kind of story from anything the writers have done in our first two years," Berger additionally noted.
This Is Us is only just heading into its third year, but the show apparently knows exactly where it wants to go. And so does the cast! The show made headlines in May when it was revealed that parts of the series finale had already been filmed.
Even if This Is Us has its ending all worked out, I'm certainly not ready to say goodbye. For now, it's time to focus on the present. Even if that present is actually also the future and the past, because it's This Is Us and the time isn't always now. You get the picture.
Season 3 of This Is Us debuts Tuesday, Sept. 25 on NBC.