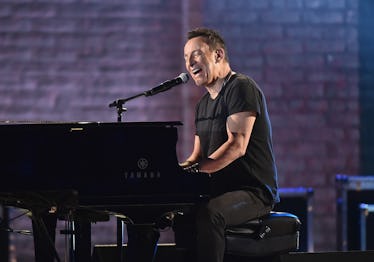 'Springsteen On Broadway' Is Coming To Netflix & I Believe In A Promised Land
Theo Wargo/Getty Images Entertainment/Getty Images
This past Broadway season there have been two shows which have been the hottest tickets to get. The first is Harry Potter & the Cursed Child, perhaps one of the most expensive non-musicals to land on the Great White Way. The other is Bruce Springsteen's one-man show, the most music-filled one-man performance of the season. Both have held lotteries to help get tickets to fans. But the reality is, not everyone will get to see these shows live in New York. So, Springsteen is doing something about it. Springsteen On Broadway will hit Netflix this coming winter, just as the live show draws to a close.
Unlike Potter, which can run for years with new casts switching out as it goes along, one-man shows depend on the man in question to show up for eight performances a week. Springsteen has been a good egg in this regard. The show's original "limited run" was supposed to close on Nov. 26, 2017. But he's agreed to extend it, and then extend it again, well past a full year's worth of performances.
Closing night is now scheduled for Dec. 15, 2018, the same day a filmed version of the show will arrive on Netflix for everyone to enjoy.
Speaking to Deadline, Springsteen manager Jon Landau said:
The purpose of the film is to bring this incredibly intimate show to Bruce's entire audience intact and complete. In addition to its many other virtues, Netflix has provided for a simultaneous worldwide release which is particularly important for our massive international audience. Ted Sarandos and the entire company's support has been a perfect match for Bruce's personal commitment to the filmed version of 'Springsteen on Broadway.'
Springsteen's one-man show is based on his best-selling autobiography, which is named for one of his biggest hits, Born to Run. (It's available to buy on Amazon.) Thew show features Springsteen on guitar and piano, performing stripped down versions of some of his greatest hits while talking about the personal stories from his life that inspired them. His wife and bandmate, Patti Scialfa, does turn up during the show for two songs, but mostly it's just him.
For those who are looking forward to getting to see the show for free because you couldn't make it to New York City (or win the ticket lotto), here's the setlist:
"Growin' Up" (1973, Greetings from Asbury Park, N.J.)
"My Hometown" (1984, Born In The U.S.A.)
"My Father's House" (1982, Nebraska)
"The Wish" (1998, Tracks)
"Thunder Road" (1975, Born To Run)
"The Promised Land" (1978, Darkness on the Edge of Town)
"Born in the U.S.A." (1984, Born In The U.S.A.)
"Tenth Avenue Freeze-Out" (1975, Born To Run)
"Tougher Than the Rest" (1987, Tunnel Of Love)
"Brilliant Disguise" (1987, Tunnel Of Love)
"Long Walk Home" (2007, Magic)
"The Rising" (2002, The Rising)
"Dancing in the Dark" (1984, Born In The U.S.A.)
"Land of Hope and Dreams" (2012, Wrecking Ball)
"Born to Run" (1975, Born To Run)
No word on if "The Ghost of Tom Joad" (1995, The Ghost of Tom Joad) or "Long Time Comin" (2005 Devils & Dust) will be included in the film. Springsteen performed the songs as substitutes a few times. Likewise, it's not clear if "This Hard Land" (1995, Greatest Hits) which he performed as an encore will be included either.
Springsteen on Broadway premieres on Dec. 15, 2018, on Netflix.