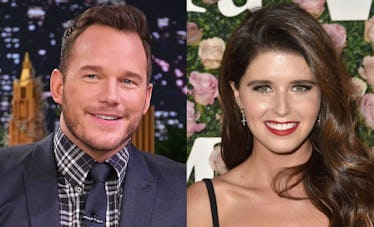 Chris Pratt & Katherine Schwarzenegger Could Get Engaged Sooner Than You Think
MIKE COPPOLA/FRAZER HARRISON/GETTY IMAGES
Chris Pratt and Katherine Schwarzenegger are getting serious! Their relationship is so serious, in fact, that marriage might soon be in their future! So, when will Chris Pratt and Katherine Schwarzenegger get engaged? According to a new report from Us Weekly, Pratt and Schwarzenegger might get engaged much sooner than you think! Elite Daily reached out to Pratt and Schwarzenegger's teams regarding the reports, but did not hear back by the time of publication.
In Us Weekly's report, which was published on Tuesday, Nov. 20, a source close to the situation revealed that the couple is gearing up to get engaged.
"They'll be engaged soon," the source said. Apparently, Pratt is turning down opportunities to work "so he can spend time with her." And that's definitely a sign that the relationship is getting pretty serious!
I guess that explains why Pratt and Schwarzenegger have been getting extra cozy with Pratt's ex-wife Anna Faris and her new love Michael Barrett. Just a few weeks ago, on Halloween, the two couples took Pratt and Faris' son Jack trick-or-treating. In photos published on Oct. 31 by TMZ, Pratt, Schwarzenegger, Faris, and Barrett were all dressed up as they took little Jack out to snag some candy. So, that was a sure sign that Schwarzenegger was definitely becoming a closer part of the family. You can see the photos of their Halloween outing here.
Schwarzenegger's closeness to Pratt's ex and his son isn't surprising since she's been in the picture for quite a while now. Pratt and Schwarzenegger started dating back in July 2018, so the relationship is still young and fresh but has lasted long enough for both to know if they want to commit to one another. At the time, a source told Us Weekly how the couple got together.
"Her mom set her up," the source said. "They're both active in the church."
So, they have lots in common!
Another sign that Schwarzenegger and Pratt are serious and committed to a future together came in a Nov. 1 report from Entertainment Tonight. The report, which detailed the couple's Halloween outing with Faris and Barrett, revealed that Pratt and Faris are very "respectful" of each other, and I suppose that respectfulness also includes their partners.
"Anna and Chris have always maintained a respectful relationship after breaking up," the source explained to ET. "From the beginning, their main focus has been their son, Jack. Anna and Chris support each other in their new relationships and want one another to be happy."
That source also explained that Halloween wouldn't be the last holiday the whole gang spent together.
"Halloween together was special, but many more holidays in the future will be spent like this," the source said.
So, I guess that means there will be many more holidays spent together in the future. And that is a huge sign that Schwarzenegger and Pratt are serious enough for marriage. With all celebrity engagements and weddings happening lately, it wouldn't surprise me at all if Pratt and Schwarzenegger were engaged in the next few months. Stuff like that always seems to be contagious, doesn't it?