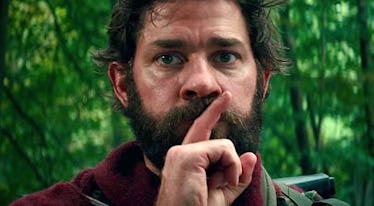 The 'A Quiet Place' Sequel Has An Official Release Date, But You'll Have To Wait A While
Paramount Pictures
John Krasinski's horror opus is getting a second movie, and now we officially know when it will sneak its way into theaters. So when will A Quiet Place 2 premiere? Paramount Pictures just made the announcement, and unfortunately, horror fans are going to have to wait a while before finding out what is going to happen with those sound monsters.
Pretty much immediately after A Quiet Place premiered in April, the team behind it announced that they were working on a sequel. This week, Paramount Pictures revealed when the new sequel (which does not have an official title yet) will premiere: May 15, 2020. Yep — sadly, we are going to have to wait nearly two full years to see how John Krasinski is going to follow up his unexpected horror hit. Right now, all we know about the upcoming sequel is that Krasinski is currently writing it with his A Quiet Place co-writers Bryan Woods and Scott Beck. The new movie does not have an official director yet, but it is safe to assume that Krasinski will take the director role again since his direction of the first movie received resounding critical praise.
But although John Krasinski will likely still be calling the shots on set, it does not seem likely that he will reprise his lead role in the sequel, since [spoiler alert] the first movie ended in Krasinski's character dying, sacrificing himself to the monsters in order to save his children. Then again, they could also go the prequel route, which would have Krasinski's character still alive and could center on how these hypersensitive sound monsters first appeared on Earth and started decimating humanity.
The other option would be a continuation of the story of A Quiet Place picking up from where the first movie left off. [Spoiler alert, again] At the end of A Quiet Place, the Abbott family's deaf daughter Regan (Millicent Simmonds) finally realized that the feedback from her hearing aid could incapacitate and ultimately destroy the sound monsters when amplified enough. Regan's mother Evelyn (Emily Blunt) sees that the humans finally have their chance to fight back against the monsters instead of just quietly hiding, and pulls out her shotgun with a look of resolve. A potential sequel could follow the surviving Abbotts as they take out more of these monsters using Regan's hearing aid and uncover the truth about what they are and why they came to Earth in the first place.
Of course, any guesses at the sequel's plot are total speculation at this point, since John Krasinski is still drafting it up with his writing partners. And unfortunately, we probably will not be finding out any more details about the new movie for a pretty long time, since it is not set to premiere until the summer of 2020. Until then, I guess we can just keep rewatching A Quiet Place to prepare for the upcoming follow-up. The currently untitled A Quiet Place sequel will land in theaters on May 15, 2020.