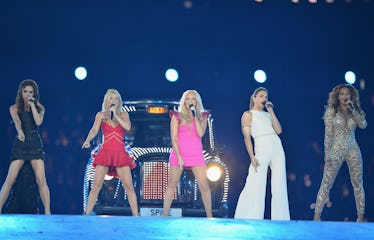 Here's When The Spice Girls Reunion Tour Starts, Because It's What You Really, Really Want
Jeff J Mitchell/Getty Images Sport/Getty Images
The Spice Girls are blessing the world a second time over with a second reunion tour. While fans are disappointed the tour sold out in a matter of minutes (despite Posh Spice passing on the tour), the group just lifted the spirits of Spice Girls fans everywhere by adding five more shows to the previously announced schedule. You read that right, there will now be 11 Spice Girls concerts to try and get to, so when is the Spice Girls reunion tour? '90s kids everywhere really, really want to know the answer. (See what I did there? Of course you did.)
According to Entertainment Weekly, the highly anticipated second reunion tour was slated to kick off in June 2019 in the U.K. But thanks to the newly-added tour dates, that official start date has been moved up a few days, so fans will be able to see their beloved, Ginger, Baby, Sporty, and Scary Spice as early as May 29, 2019, in Manchester. There will reportedly be three concerts held in Manchester's Etihad Stadium and the rest of the tour dates will be held throughout the U.K.
The 2019 Spice Girls reunion tour tickets literally sold out in minutes when the sale went live on Saturday, Nov. 10, according to the Independent. So these additional tour dates were added due to the hella high demand. Unfortunately, us American peasants won't be treated to any tour dates in the U.S., at least for now. Maybe if we tweet enough crying emojis, the girls will change their minds?
Sporty Spice, aka Mel C, recently responded to all of the ticket love on Twitter. "I know you've been bombarded with promo stuff lately but I just wanted to say I'm completely overwhelmed with the response to our tour," she tweeted on Nov. 10. "Wow! I did not expect that. It's going to be AMAZING!! Thank you so much! #SpiceUpYourLife."
Hey, Mel? How about you help us spice up our lives here in the U.S.?! Please?! I really need to get this joy!
The group announced its reunion tour in very Spice Girls fashion on Nov. 5.
The announcement featured all of the Spice Girls, except Victoria Beckham, who made it pretty clear in her speech at the People's Choice Awards on Nov. 11 that she won't be making any appearances on the tour.
"I hung up my microphone some time ago and I get scared when I get up on stage and see a mic," she said while accepting her Fashion Icon Award. That comment mainly served as an apology for using notecards during her speech, but if she gets nervous just making a quick speech about her fashion career, you can almost bet she's not going to pick up her mic for a Spice Girls reunion tour.
It's fine that my favorite Spice Girl isn't going to be on the tour! I'm fine! This is fine! I'll just have to live off of the video of the Spice Girls performing at the London Olympics from now on. And also watch Spice World on loop (as if I don't already). Spice up your life with this amazing throwback and prepare yourself for May 29, 2019.