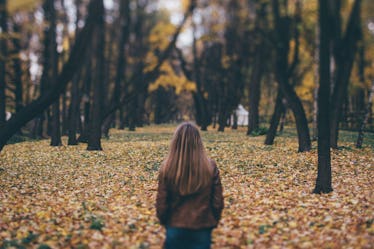 The First Day Of Fall Is Closer Than You Think, Even Though The Weather Might Not Show It
There's a harvest moon headed our way, which can only mean one thing, fall is here, and we're finally allowed to wear our Ugg boots. Now, I'm sure you're wondering, when is the first day of fall 2018, anyway? Not to worry, stargazers, you've come to the right place and trust me, you're not the only one who's ready to ring in this oh-so-magical season. This year, the first day of fall is Saturday, Sept. 22, which is less than a week away. Now, I will tell you this, despite our eternal obsession for this season's gorgeous weather, plush wardrobe, and all things pumpkin spice, there's a lot more to this time period than you think.
Autumn is mother nature's season of the harvest, which means it's time to celebrate. Think about it: Both Halloween and Thanksgiving take place during this whimsical season, right? Well, nothing is coincidence, and we're also not the only ones who celebrate either. In fact, people from every culture and all over the world, gather during the autumn season for festivals and ceremonies. It's everything from pumpkin carving, to rituals deeply rooted in faith. However, it really doesn't matter whether these rituals are religious, or simply just for fun, considering they all have one thing in common: they celebrate joy and gratitude.
How do you celebrate this fun-filled season? Here's a closer look at the symbolism and cultural significance behind two very exciting celebrations:
Why Do We Celebrate All Hallows Eve?
Have you ever wondered why everyone dresses up and goes door by door asking for candy, every year on Oct. 31? Well, for starters, Halloween isn't just an American celebration, as it derived from ancient Celtic roots in the Samhain festival in Ireland. Truth is, many many years ago, all the Celtics would come together to celebrate Samhain, aka the festival of the dead, which is when the division between this world and the underworld was at its thinnest, allowing the spirits to enter.
Now, in order to ward off the evil spirits, people wore costumes and masks to disguise themselves, and avoid harm. The Celtics celebrated with bonfires and food, which was served for both the living and the dead. Interestingly enough, Halloween is incredibly similar, as it is both an occasion to express ourselves creatively, and gather with family, in the spirit of make-believe; hence the trick-or-treating, spooky decor, and fun storytelling.
Honoring Our Ancestors On The Day Of The Dead
The Day of the Dead, aka Dia de los Muertos, is a Mexican holiday celebrated all over the world on Nov. 1 - 2. This is another fun-filled celebration in memory of the lives of those who have passed on. It is actually very similar to Samhain, as it is a celebration that honors our ancestors, and loved ones.
During the ceremony, families create altars with offerings such as candles, flowers, and at times the favorite foods of the departed. It is said that the gates of heaven open at midnight on Oct. 31, and the spirits of the deceased children reunite with their families for 24 hours. Then, on Nov. 2, the more mature spirits come visit their family, and enjoy the festivities prepared especially for them.
Embrace The Spirituality Of Every Season
Like I said, this highly-anticipated and utterly magical season isn't just about your favorite food, or pair of boots. There's a lot of history behind this time of year, and I personally think it's important that we show our respects. Now, if you don't celebrate Halloween, or the Day of the dead, not to worry. At least now you know the spiritual significance of these one-of-a-kind celebrations.