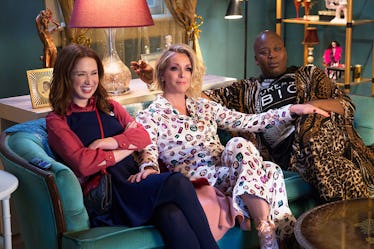 'Unbreakable Kimmy Schmidt' Has A Second Part Of Season 4 Coming, So Don't Worry
Netflix
Unbreakable! It's a miracle! Do you have that catchy theme song in your head yet? Well you're about to, because Unbreakable Kimmy Schmidt's fourth season just hit Netflix on Wednesday, May 30. But it's not streaming in its entirety — the comedy series is breaking up its final season into two parts. When does Unbreakable Kimmy Schmidt Season 4 Part 2 air? Fans are wondering when in the ham sandwich the show will return.
Netflix dropped six new epsiodes of Season 4 of Unbreakable Kimmy Schmidt so far, but it's still unclear as to when exactly viewers will get access to the remaining episodes. Newsweek noted that the second half of the season is due to begin streaming in "early 2019," so it sounds like the audience will have to wait a while to see the conclusion of the beloved and criticially acclaimed series.
Even though Kimmy is saying goodbye sometime soon, there have been reports that a movie could potentially in the works. Deadline reported earlier this month that NBCUniversal and Netflix are in talks to end the show with a film, which co-creators Tina Fey and Robert Carlock would pen.
One of the show's breakout scene-stealing stars, Tituss Burgess (who plays the hilarious Titus Andromedon), recently spoke to Newsday about the show's future and what it felt like to learn it was ending:
It came as a huge shock to us all. But the writers are delivering some very pointed, funny material. So, yeah, it is the last one but … we're doing a movie. That'll be like a two-hour season five. So [right now] it doesn't feel as 'This is it!' as it sounds.
And luckily there's a batch of six brand spankin' new eps Unbreakable Kimmy Schmidt to keep fans satisfied for now. The fourth season focuses on Kimmy as embarks on her HR job at the startup Giztoob.
"I think the first three seasons were about Kimmy getting her feet under her, coming to grips with the fact that she'll never quite escape her past and accepting that and making that part of herself in a practical day-to-day sense like having a place to live and a job," Robert Carlock revealed to the NY Daily News.
If you're not familiar with the show, Kimmy's character spent 15 years trapped in an Indiana bunker before being rescued at the age of 29. The show revolves around her optimistically naive fresh start in New York City as she catches up everything she missed and tries to adjust to life on her own.
"This season is very much about where she's trying to be a grown-up and succeeding and failing in equal measure," Carlock added.
Season 4 will also tackle the #MeToo movement, as Kimmy enters the professional world for the first time ever. "Our characters are not fully aware exactly of what's going on in the world, for various reasons," Carlock explained at The Writers Guild Awards, via The Hollywood Reporter. "But [the #MeToo movement and wave of sexual misconduct claims are] very present, especially in the first half of the season as we've talked about it ... That movement, whether we talk about it expressly or not is very present in how Kimmy looks at the world, and you talk about someone who represents the relief of that happening and [the sense that] hopefully it's not too late for other people."
What's next for the ridiculously talented cast and crew behind Kimmy Schmidt now that the series is nearing an end? Robert Carlock and Tina Fey are reportedly working on another project for NBC, but that's being kept under wraps at the moment. Kemper is set to lend her voice to The Secret Life of Pets 2. Tituss Burgess, a Broadway alum, is working on his musical adaptation of The Preacher's Wife — he acquired the rights to the Whitney Houston/Denzel Washington holiday film in 2016.
Part 1 of Unbreakable Kimmy Schmidt is currently streaming on Netflix. Happy binge-watching and keep on Kimmying.