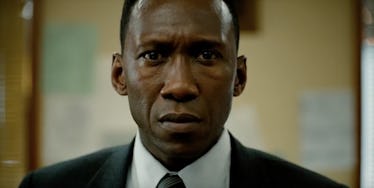 Here's Everything Fans Should Know About 'True Detective' Season 3
HBO/YouTube
HBO's True Detective changed the crime drama game when it premiered back in 2014. The moody anthology turned the buddy cop genre on its head thanks to stunning cinematography, a complex narrative of enthrallling twists and turns, and complex leads played by Emmy nominees Woody Harrelson and Matthew McConaughey. Following a less celebrated second season featuring Colin Farrell, Vince Vaughn, and Rachel McAdams in 2015, a third got underway starring Moonlight Academy Award winner Mahershala Ali. When does True Detective Season 3 premiere? The long-anticipated next installment hits HBO on Sunday, Jan. 19.
True Detective's third season will be set in the Ozarks. Ali portrays Arkansas police detective Wayne Hays. The story will time jump across three decades as Haye explores the disappearance of two children in the early 1980s. Other main cast members include Stephen Dorff (Blade) as another Arkansas detective and Carmen Ejogo (Selma) as a schoolteacher with a connection to the missing kids. Deborah Ayorinde (Luke Cage) plays Hays' daughter and Jodi Balfour's role will be romantically linked to Dorff's character. This Is Us' Lonnie Chavis appears as the younger version of Hays' son. Ray Fisher plays the older version.
True Detective Season 3 consists of eight episodes. HBO released an eerie teaser in August.
"Before you ever knew me, I wasn't scared much. That wasn't a fear for me. Things I've seen, things I know, wouldn't do anything but cause harm. My whole brain's a bunch of missing pieces," Ali's Hays says ominously in the clip, which shows him in varying periods of his life.
"This peace is more hauntin' than anything," he declares. "I want to know the whole story."
True Detective was filmed on location in Arkansas and creator Nic Pizzolatto revealed that the setting helped informed its tone.
"The mystery of the deep woods. The fog over the mountains. The rivers. The water. The sense of scale when you get out to some of this nature. Also, what the buildings say about the lives behind them," he explained at a "media day" in July, according to Arkansas Online. "So I feel like people will see it as an extension of character, something that embodies characters' emotional journeys while influencing those journeys."
While further details have been kept under wraps, Ali additionally spoke out about his approach to playing Arkansas-based Hays. The actor shared:
My character would not move or operate the same way if he was in New York. I've given myself permission to go slower even if they want me to speed up a bit. You end up essentially aligning yourself with the frequency of the pace. And that's how something will resonate as being truthful or not.
True Detective Season 1's Louisiana backdrop was an integral element in setting the thriller's sinister scene. It sounds like the show is continuing to make thoughtful creative choices when it comes to bringing the material to life. Season 2 may not have earned the critical acclaim of its predecessor, but Season 3 looks well on its way to reaching redemption.
True Detective Season 3 premieres Sunday, Jan. 19 on HBO.