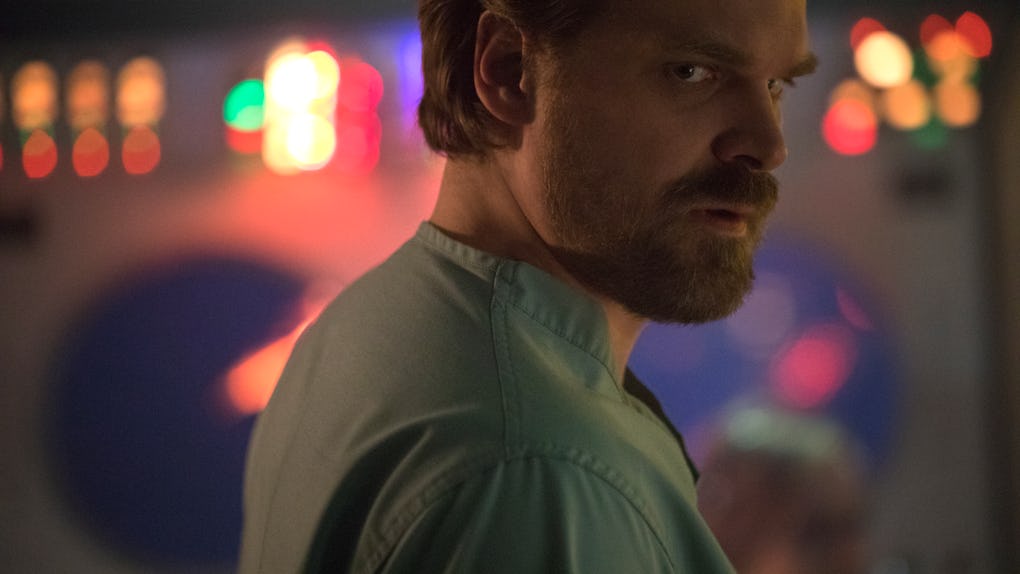 When Does The 'Stranger Things' Aftershow Premiere? Here's Everything We Know About Netflix's Newest Installment
You know a show is big, not when it spawns spinoffs (in today's TV landscape, that's almost a given) but when it spawns aftershows, usually hosted by Chris Hardwick. Game of Thrones has one. (It's called Thronecast, it's in the UK.) AMC has several. (Talking Dead, Talking Bad, Talking Saul.) Now Stranger Things will have one. But with Netflix's traditional "all at once drop" of episodes format, how does that work exactly, if each episode isn't a weekly installment to comment on? And when does the Stranger Things aftershow premiere?
The new aftershow for Stranger Things is titled, perhaps appropriately, Beyond Stranger Things. (I would have gone with Upside Down TV, but what do I know?) It will be hosted by Jim Rash, better known as Dean Craig Pelton from NBC's Community. Unlike Talking Dead and ThroneCast, there will not be an "aftershow" episode per installment. Season 2 is nine episodes long, but Beyond Stranger Things only runs for seven. Like the parent show, all seven episodes will drop at once, and they'll all drop on the same day as the show itself: Friday, Oct. 27. 2017.
But because of the different format, this aftershow will be structured a little differently than we are used to. Check out a sneak peek:
According to The Hollywood Reporter, which broke the news:
All seven episodes will be available to watch on Oct. 27, the same day Stranger Things 2 is released on the streaming platform. However, viewers will be advised not to start watching Beyond Stranger Things until after they have finished watching the entire new season of the drama, as there will no doubt be major spoilers along the way. Unlike the genre's other aftershows, which air installments following each episodes, Netflix's iteration will automatically play after viewers complete the final episode of Stranger Things 2.
This suggests that the show plans to talk about spoilers from the entire series from the get go when talking about some of the concepts and characters who are introduced early on. For example, the first episode's prologue introduces a new twist and adds many questions to the series, most of which don't get answered in any significant way until much, much later in the season, in Episode 7.
This also makes it easier when bringing in guest stars to the aftershow, including sit downs with most of the cast as well as the creators of the series. No one has to worry about spoiling things.
Guests on the aftershow will include creators Ross and Matt Duffer and executive producer and director Shawn Levy, along with Stranger Things' many stars. Among the castmembers making an appearance are Millie Bobby Brown, Sean Astin, Linnea Berthelsen, Natalia Dyer, Brett Gelman, David Harbour, Randy Havens, Charlie Heaton, Joe Keery, Gaten Matarazzo, Caleb McLaughlin, Dacre Montgomery, Paul Reiser, Noah Schnapp, Sadie Sink and Finn Wolfhard.
This is the first time Netflix has attempted to do an aftershow with any of their in-house productions. Even though both House of Cards and Orange Is the New Black were breakout hits, Netflix never even considered it, suggesting that this is their first show to hit a different level altogether in terms of viewership. (Netflix is notorious about not releasing ratings numbers.)
Another hint that Stranger Things may be popular on an unprecedented level: the choice to raise monthly charges for streaming for the first time since they began offering it, and right as Stranger Things Season 2 debuts. If the aftershow also turns out to be a massive hit, as fans simply allow Netflix to keep auto playing at them, perhaps we will see more of these attach themselves to their most popular programs as a new extra form of content.