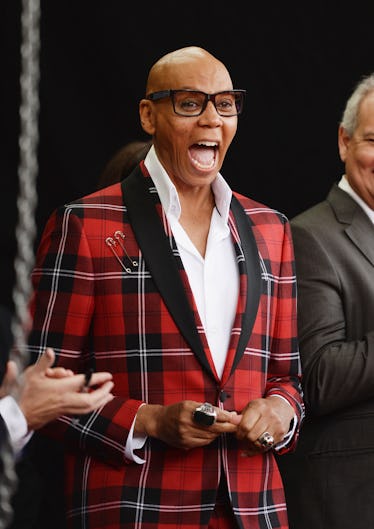 RuPaul & Mally Beauty Are Collaborating On A Makeup Line, So We're All Gonna Slay
Amanda Edwards/Getty Images Entertainment/Getty Images
If ever there were a way to brighten up a dreary Monday morning, it would most certainly be hearing the news that none other than RuPaul, an iconic figure in the drag world, is collaborating with Mally Beauty on a new makeup line. PINCH ME, BECAUSE I MUST BE DREAMING. OK, OK, before I spiral out of control, let's get the basics out of the way. When does the Mally x RuPaul makeup collection launch? When can I throw all my money at Mally and RuPaul and call it a day? Brace yourselves, everyone: It's coming soon, but probably not as soon as you want it to.
On Saturday, April 21, Mally Beauty, founded by celeb makeup artist extraordinaire, Mally Roncal, teased this utterly fabulous collaboration in an Instagram post, captioned, "#MallyXRuPaul 💋 More info coming soon!" In terms of how "soon" we can actually expect to "beat our faces" with what I'm sure is a truly glorious collection, it seems like we'll probably have to hold out a little bit longer. According to a press released shared with POPSUGAR, RuPaul's capsule collection with Mally Beauty should debut sometime early next year. While having to wait that long physical pains me, I'll do anything for RuPaul.
The capsule collection will reportedly feature around 10 to 12 products, with RuPaul having conceptualized each one, according to POPSUGAR. Though pretty much no other information about this collab has been released at the moment, I think it goes without saying that RuPaul is the perfect figure to help showcase Mally Beauty's vision as a brand. And founder Mally Roncal agrees, stating in the press release:
Ru has always stayed true to who he is and unapologetically puts himself out there. He exemplifies self-acceptance and has inspired and taught millions of people to love themselves. This seamlessly blends with Mally Beauty's mantra: What makes you different makes you beautiful! I feel blessed to have the honor of working with RuPaul and have him connected to my brand.
The love between these two moguls doesn't stop there, as RuPaul has some equally sweet things to say about the opportunity to work with Roncal. "I love Mally. Her approach to makeup is exemplified by her personality; smart, sexy, fun, and beautiful," he gushed in the press release. "I really dig this woman!"
Below, find an authentic, never-before-seen GIF of me spying on all of this love and eating it TF up:
While you proceed to freak out over the news of this collab, likely screaming, "FINALLYYYYYY!" let it be known that this isn't the first time RuPaul has worked with a beauty brand before. While this is the RuPaul's Drag Race star's first actual line, RuPaul did, in fact, team up with MAC back in 1994 to be the very first face (not to mention, the first drag queen) of MAC's VIVA Glam campaign, designed to help raise both awareness and money to fight HIV/AIDS. Given how heavily the HIV/AIDS epidemic stigmatized the gay community, RuPaul teaming up with MAC made necessary waves in beauty industry and perfectly encompassed MAC's own mantra: "All ages, all races, all genders."
As we wait with baited breath for even more clues as to what the Mally Beauty X RuPaul collection has in store for all of us, I think we can all agree that the underlying message behind the collection will be in line with one of RuPaul's most important lessons: self-acceptance and loving yourself. As the queen says, "If you can't love yourself, how in the hell are you gonna love somebody else?"
Now, sashay away, fam, and remember one thing: Come early next year, you better #Werk.