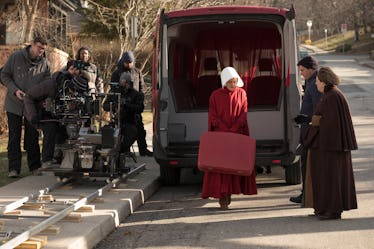 'The Handmaid's Tale' Season 2 Now Has A Premiere Date, So Prep Your Bonnets & Robes
Hulu
2016's award for "Most Accidentally Well-Timed Television Premiere" was won by Hulu's The Handmaid's Tale, a series that was green lit, written, and filmed all before that fateful morning of Nov. 9, when the world turned upside down. Suddenly, instead of premiering during the first 100 days of the first female president as planned, this dystopian fantasy of religious fascism and suppression of women debuted its first season just as President Trump was trying to take away women's health care rights. So when does The Handmaid's Tale Season 2 premiere? And can the show *possibly* top that?
Let's be honest, it probably can't. Lightning rarely strikes twice and almost never in the same spot. Besides, the circumstances of the series have also changed this year. Hulu's inaugural season of the show was based on the 1985 novel of the same name by Margaret Atwood. That novel is a slim little book, with only enough plot to carry a single run of eight episodes. (And unlike some other series, the writers did not attempt to pad out the novel to carry it to another season.)
This second season will see the writers of the series branch off into their own interpretation of what comes next in the story, after the door to the van shuts of Offred, and it all goes dark. And they'll have written it knowing full well who will be running this country when it premieres this time.
Here's the official synopsis:
The Emmy-winning drama series returns with a second season shaped by Offred's pregnancy and her ongoing fight to free her future child from the dystopian horrors of Gilead. 'Gilead is within you' is a favorite saying of Aunt Lydia. In Season Two, Offred and all our characters will fight against – or succumb to – this dark truth.
So when can we expect it to arrive? The good news is the wait will not be too much longer. Hulu is anticipating the series, which is currently filming, to arrive at the same time the first one did, at the end of April 2018.
For those wondering where the series is planning on going, Elisabeth Moss, who both stars in the series as Offred and is one of the show's producers, tells people not to even try and guess.
I read the outline and got full body chills. Give up trying to guess what happens.
For those worried about the show branching away from Atwood's novel, put those fears to rest. Atwood has made it clear she approves of what the writers are doing. Before Season 1 even arrived, Atwood was already talking about plotting out what would happen in a sequel to the novel, as if she knew what a hit they had on their hands, and was already mentally working on where the writers should aim.
The casting has given us a hint of where the show is going. While the first season ended with Offred being taken away — either as a rescue to Canada or by the Eyes (we don't know which) — we do know that actress Alexis Bledel who plays her friend Emily, once known as Ofglen and now as Ofsteven, is being promoted from guest star to series regular. Emily's wife Sylvia, who escaped to Canada with their child, has also been cast. She's played by Veep's Clea DuVall.
This suggests we'll be spending at least some time in Canada. At this point, both Offred's husband Luke (played by O.T. Fagbenle) and her BFF Moira (Samira Wiley) are also there, working to free Offred. But even if Offred has somehow made it to freedom, we won't be totally free of the Waterfords either. Their Martha servant, Rita (played by Amanda Brugel) has also been promoted to series regular.
We can't wait to see what The Handmaid's Tale Season 2 has in store. April 2018 can't come fast enough.