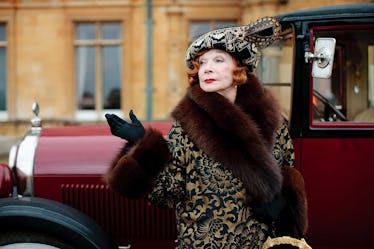 If You Love 'Downton Abbey,' Get Excited About NBC's New Drama 'The Gilded Age'
PBS
When Downton Abbey went off the airwaves after the 2015/2016 television season, it was a heartbreaking moment for fans of period drama. Creator Julian Fellowes had invented a show that somehow mined the past in an accessible manner, gave us a rich soap opera family worth obsessing over, and yet managed to include the feel-good drama of the week of yesteryear, all in one perfect package. Since then, we've been promised his new show, The Gilded Age, would be coming "soon." When does The Gilded Age premiere? What's taken so long to get it off the ground? Will it be delayed for months on end crossing the pond from ITV to PBS?
That last question is the easiest to answer. Unlike Downton Abbey, which was a U.K. production that accidentally turned into a smash hit over here when PBS got the distribution rights, The Gilded Age is starting out as an American production from the get-go. In fact, one might think of it as America's answer to Downton Abbey.
According to Variety, the synopsis for the series reads:
The Gilded Age in 1880s New York City was a period of immense social upheaval, of huge fortunes made and lost, and of palaces that spanned the length of Fifth Avenue. In the series, Marian Brook is the wide-eyed young scion of a conservative family who will embark on infiltrating the wealthy neighboring family dominated by ruthless railroad tycoon George Russell, his rakish and available son Larry, and his ambitious wife Bertha, whose "new money" is a barrier to acceptance by the Astor and Vanderbilt set.
So, when will the show debut? Variety reports that NBC has moved forward with the series order, after a long process of development behind the scenes. (The show was first commissioned for the development phase in 2012.) But even though it took a long time to get it right, NBC is happy with the results, and the show's order will be for 10 one-hour episodes to debut in 2019.
Fellowes said in a statement he was over the moon to have this come to fruition.
To write The Gilded Age is the fulfillment of a personal dream. I have been fascinated by this period of American history for many years and now NBC has given me the chance to bring it to a modern audience. I could not be more excited and thrilled. The truth is, America is a wonderful country with a rich and varied history, and nothing could give me more pleasure than be the person to bring that compelling history to the screen.
For fans of Downton Abbey, the question is, does this new show tie back to our beloved Grantham family? Not exactly. But it is a prequel of sorts.
Cora Crawley, the Countess of Grantham, wife to the Earl of Grantham, Robert, was a wealthy American socialite in New York City and part of this new money crowd before she married. If you read her bio in the Downton Wiki, she was born Cora Levinson in 1868 in New York, the only child of a dry goods multi-millionaire. That would make her an 18-year-old debutante heiress in 1885, right smack in the middle of when The Gilded Age begins, and a contemporary to the new characters we'll meet.
Like many of that era, her mother took her to London when she was 21, because though the newly rich in the U.S. had money, what they really wanted was the respect that aristocracy brings. Meanwhile, many titled families in the U.K. were already in monetary decline and desperately needed rich wives. It was marriages like these, and the influx of American cash they brought with them, that kept the nobility going until World War I. Though we probably won't see Cora or Robert, we should expect that trips to London to find fortune-hunting husbands will be at least a subplot of the new series.
The Gilded Age will air on NBC sometime in 2019.