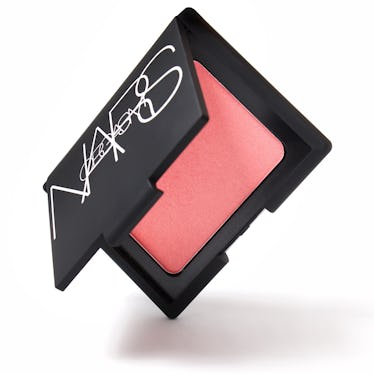 Nars Orgasm Blush Will Soon Be A Lip Balm & Your Lips Will Never Feel Better
NARS
Nars' Orgasm beauty line has risen to cult status among all levels of makeup addicts, and today, the brand is offering us all a Valentine's day treat. The brand teased a lip balm during fashion week, and all I (and everyone else) need to know is, when does Nars Orgasm Lip Balm drop?
For the most part, I don't even try to remember the names of makeup colors because that's a lost cause in my brain, but Nars Orgasm Blush ($30; sephora.com) has always stuck with me. That blush was one of the first cosmetics I ever used, and I still use it to this day, so it has a special place in my heart (and beauty cabinet). I remember the color's name because of how much I love it, but the cheeky (get it?) title doesn't hurt either. Orgasm has a peachy pink hue with the slightest golden shimmer, it can go with literally almost any beauty look, any outfit, and on any skin tone. In my humble opinion, it's the universal pink standard for blush.
Now you can probably imagine my excitement when Nars began making other Orgasm products, like a liquid blush, nail polish, lip gloss, and lipstick. I'm on board with the liquid blush and nail polish, but I'm not a big lipstick or gloss user, those products (not exclusive to Nars) tend to feel heavy on my lips and I'm too lazy to make sure they're applied well all day long. But the brand has finally answered my prayers and is releasing a a new Nars Orgasm lip balm later this year!
The packaging for the product hasn't been released yet, but Nars had a soft launch for the lip balm at the 3.1 Philip Lim Fall 2018 New York Fashion Week show. It's a brilliant way to show off a new product because you get to see how it looks on many different skin tones.
The balm looks very sheer, which I'm definitely excited about. Hopefully, that means minimal touch-ups are necessary throughout the day. A lip balm also usually implies a significant moisturizing factor, which is key in a good lip product.
Some models looked to have more of the product on, it seems like you can layer it on as much or as little as you'd like, to get a more or less saturated look.
Francelle Daly, a Nars makeup artist spoke about the upcoming balm,
This is amazing because it really is that iconic shade of Orgasm that's a cult classic from Nars — as you know — and it's a balm. It's not sticky, it has a hint of pink, and it can go on anybody's lip tone. It really elevates that natural lip tone that everybody wants right now. You can have that commitment of color, but it's not a full, smacky, shiny lip. It's really just going to add a depth.
It sounds like pretty much everything I've ever wanted in a lip product.
The new Orgasm Lip Balm doesn't come out until spring or summer 2018, but if you've never worn this shade before, why not stock up on some of the other Orgasm products while you wait? You'll be a convert in no time.
Nars Blush in Orgasm
Nars Blush in Orgasm, $30, Nars Cosmetics
The OG Orgasm.
Nars Blush in Super Orgasm
Nars Blush in Super Orgasm, $30, Nars Cosmetics
The Super Orgasm shade is slightly more pigmented withan it's original counterpart, and has more of a golden shimmer.
Nars Illuminator in Orgasm
Nars Illuminator in Orgasm, $30, Nars Cosmetics
This liquid illuminator can be used on your cheekbones and eyelids to give you some extra shine. There's also a solid multi-use stick similar to this liquid illuminator: The Multiple in Orgasm.
Nars Satin Lipstick in Orgasm
Nars Satin Lipstick in Orgasm, $28, Nars Cosmetics
Check out the Orgasm lipstick if you want to see how the hue looks on your lips before the balm comes out.
Nars Lipgloss in Orgasm
Nars Lipgloss in Orgasm, $26, Nars Cosmetics
The Orgasm gloss will give you a heavier shine than the lipstick, if that's your vibe. Glossy AF.