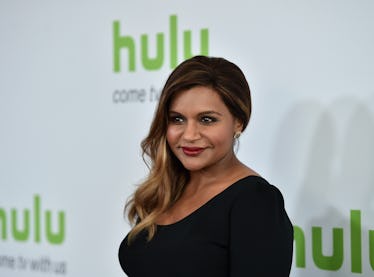 Mindy Kaling Has A New Movie About Late Night TV Coming Out, So Sign Me Up
Alberto E. Rodriguez/Getty Images Entertainment/Getty Images
Mindy Kaling has kept busy since the end of her Hulu series The Mindy Project last year. After closing off 2017 by having a baby, she recently starred in A Wrinkle in Time and launched her new series Champions on NBC, but I think her upcoming project has me the most excited. Kaling has written and produced a new comedy film about late night TV, and being the amazing multi-tasker she is, she's also starring in it. The movie's cast also happens to be perfect, so when does Late Night premiere?
Starring Kaling and Emma Thompson, Late Night revolves around Thompson's late-night talk show host who may lose her show until she hires her first female writer, played by Kaling. Kaling's character seeks to help her new boss revive her personal life and her show. In case you're only familiar with Thompson through her heartbreaking role as Karen in Love Actually or as the sensible sister in Sense and Sensibility, she's truly a hilarious person who ought to play against Kaling incredibly well. Kaling has already endorsed her, saying in an interview with Collider:
She's incredible! What's great about her is that she's a writer and she's won an Academy Award for it. She's so funny, but she can do drama, too. She really can do anything. I've been dying to work with her, and I haven't seen her in a big comedy, in a long time.
The movie has yet to announce a release date, but according to Variety, the film's principal photography is set to begin this week, so Late Night will likely be in theaters by next year. For now, director Nisha Ganatra and the production team are finalizing the cast, which seriously hints that this movie is not one to miss.
Most recent additions to the cast include Veep's Reid Scott, I, Tonya's Paul Walter Hauser, John Lithgow and Hugh Dancy. Although he scooped up his fair share of awards for his dramatic portrayal of Winston Churchill in Season 1 of The Crown, Lithgow is one of the most versatile actors out there, and I'm already picturing him as a quasi-crazy, somewhat sexist network executive who thinks Thompson's show is way out of the line.
Like Thompson, Dancy is rarely seen in comedies, unless you're one of those fans who grew up falling in love with him in Ella Enchanted. He strikes me as one of the actors mentioned in Mindy Lahiri's pinings on The Mindy Project, so perhaps we can expect a Dancy-Kaling love connection in the movie?
Kaling has previously only written for TV, but seeing as she's written some of the most beloved episodes of The Office (Niagara, anyone?), I have plenty of faith in her Late Night script. Additionally, the project even has Oprah's approval. Speaking to Bustle last month, Kaling said:
Oprah read my movie. I'm shooting a movie with Emma Thompson in the spring, in New York, where she's a late night talk show host and I'm the first female writer on her staff. And Oprah loves Emma Thompson and is friends with her and was like, 'I'd love to read the script.' So when we were flying to New Zealand she read the script, and then she gave me notes on it. Which was — if you can get free notes from Oprah Winfrey on a script — like, incredible. But you're also scared, because you're like, 'I hope Oprah likes this movie!'
There you go, guys, Late Night is already on Oprah's list of favorite things. If that wasn't enough to get you excited, I don't know what will. Time to start the countdown until the first trailer release!