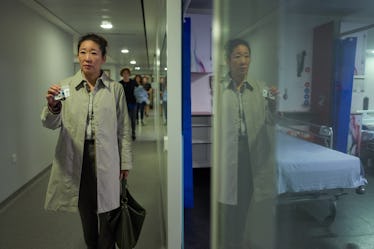 Sandra Oh's New Show Already Got Renewed, So Say Goodbye To Cristina Yang
BBC America
BBC America's Killing Eve, which stars Sandra Oh as investigator Eve Polastri, has received glowing reviews across the board. The Americanized version of the BBC (which is actually owned by AMC) is looking at having the first major hit on their hands since Orphan Black ended last year. That might explain why they've been so eager to announce that the show has been greenlit for a second season. So when does Killing Eve Season 2 premiere? Well, let's not put the cart before the horse.
First, Killing Eve Season 1 needs to premiere. It's going to that this coming Sunday, April 8, 2018, at 8 p.m. ET. And as I noted in my review a few days ago, this is a show that's worth checking out. Sandra Oh, who most fans will know from her decade-long stint as Cristina Yang on Grey's Anatomy, is our nose to the grindstone MI-5 agent working hard to take down one of Europe's most terrifying (and terrifyingly fun) assassins. But this is no gloomy Sherlockian fog-drenched chase through London streets. Eve is simply too bubbly and irrepressible, even as she learns the 00-agent style ropes. (Don't worry though, she won't be doing any backflips across rooftops or jump from moving cars into moving airplanes. She might, on the other hand, microwave a Shepard's Pie.)
Just as important to the story though is Eve's quarry, known only as Villanelle (Jodie Comer, best known for her work on The White Princess.) She puts the laughter back in slaughtering. I'm not kidding when I say every time she gets a new assignment and heads out to another glamorous European city, everyone should buckle up, because every last one of her kills is a hilarious thrill ride.
It's reviews like that which made BBC America confident enough to lock in the second season even before the first one premieres. In a statement to Deadline, which broke the news, Sarah Barnett, President of BBC America enthused:
This show has the thunder of women on both sides of the chase in Sandra Oh and Jodie Comer and, importantly, behind the camera with the lavishly brilliant Phoebe Waller-Bridge. The early response to Killing Eve has been incredible – for that reason, as well as the fact that we wholeheartedly love this original, funny, thrillingly entertaining series, we are delighted to move ahead with a second season before we even premiere.
The truth is, most cable channels have a pretty good idea if a show is coming back before it premieres. Most turn it into a game of making the biggest splash with the news. HBO, for instance, usually goes for the "Day After The Premiere" slot, usually timing the press release that a second season is coming to coincide with the ratings that episode 1 brought in. Over across the pond, ITV goes for the "Day After The Finale" slot, presuming that fans who have just seen the way the series ends will want to know when their next fix is coming.
But there's another factor as well. In this "Peak TV" era, the landscape is glutted with new and returning show premieres all year round. There were 487 scripted series that aired in 2017, up 30% from 2016. One thing that can keep audiences from tuning in is the fear of falling in love with a one-and-done show. By announcing, even before the first season has begun airing, that a second season is assured for next year, BBC America is letting fans know this is a show that's a safe bet to watch, and that presumably it will not go the way of Dirk Gently's Holistic Detective Agency any time soon.
Killing Eve Season 1 premieres this coming Sunday on BBC America at 8 p.m. ET. Killing Eve Season 2 will tentatively arrive in the spring of 2019.