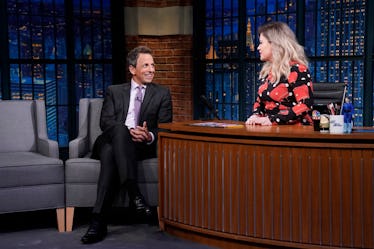 Here's Everything Kelly Clarkson Fans Need To Know About Her New Talk Show
NBC
Sometimes on television, a miracle occurs. Such was the case in 2002 when a little summer reality competition series spun off of the UK's Pop Idol arrived on FOX, and immediately landed a 19-year-old girl from Texas named Kelly Clarkson. Idol ran 15 seasons on the strength of her out-of-the-gate success. Clarkson, meanwhile, has released 8 albums, won dozens of music awards, and is now making the transition to a full-time television personality. Her stint on The Voice has reinvigorated the show. So when does Kelly Clarkson's talk show premiere? Fans will have to wait at least a little while longer.
Clarkson's arrival in the judge's chair on The Voice last season turned the series into The Kelly Show within only a couple of episodes. She also coached the winner. She is the first celebrity to log a win on her first season as a coach since Adam Levine way back in Season 1. But even before the season was over, NBC was already eyeing a deal to bring her in as a full-time host of her own talk show. Less than two months after a test pilot for the straight to syndication show was filmed, NBC announced it was greenlighting the show for "2019."
The Kelly Clarkson Show has since clarified it will begin in the fall of 2019. But though Clarkson still has another year before it goes to air, there's no time like the present to start practicing.
During her appearance on Late Night With Seth Meyers, she admitted her biggest fear was: "How are you going to do a show where you don't shut up?" Meyers generously suggested they switch seats so she could practice listening.
Meyers then gave her some great advice:
You're great because since you're a talker, the problem when you have a bad guest is that you have to do the talking, but that's never gonna be a problem... I think ultimately what you should do is you should say something like, 'What's an embarrassing childhood memory?' and when they don't have one, then you go, 'Then I will tell you one of mine.'
Clarkson then proved she had the chops to be in the seat by asking Meyers a question fans have been wondering for ages now:
Seth Adam Meyers, would you ever run for public office?
When Meyers quickly demurred, she had a sharp follow-up. "Do you perhaps think celebrities shouldn't?"
If this is how she's going to be in daytime, I personally can't wait.
As for what time the show will be on, according to The Hollywood Reporter:
The Kelly Clarkson Show [will] air as a lead-in to Ellen on NBC Owned TV Station group stations in New York, Los Angeles, Chicago, Philadelphia, Dallas-Fort Worth, San Francisco, Miami, San Diego, Boston, Hartford and Washington, D.C. (Clarkson's show will be the lead-in to Ellen in 10 of the 11 above markets, with Boston being the exception.)
The Kelly Clarkson Show will begin airing on NBC in the fall of 2019. The Voice's newest season premieres at 8 p.m. ET on Monday, Sept. 24, 2018.