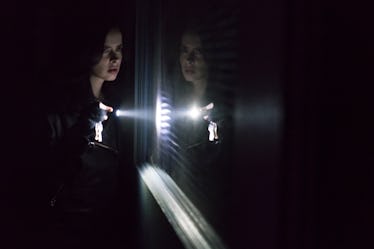 'Jessica Jones' Season 2 Finally Has A Premiere Date & It's Sooner Than You Think
Netflix
It's been nearly six months since we last saw The Defenders assemble on Netflix. With the presumed death of Matt Murdock/Daredevil, the defacto leader of the group, and the release of Netflix's The Punisher taking the tone of this Marvelverse in a different direction, it's high time we check back in with our original members and see how they're emotionally holding up. First on the list: Jessica Jones, whose last stand alone series was November of 2015. When does Jessica Jones Season 2 premiere? And what can we expect from the new series now that her nemesis from the first season, Kilgrave, is dead?
The good news is that we don't have a long wait for Netflix to return to Jones' private eye business. The new series arrives March 8, 2018, just over six weeks from now. According to the synopsis:
Season 2 find her beginning to put her life back together after murdering her tormenter, Kilgrave (David Tennant.) Now known throughout the city as a super-powered killer, a new case makes her reluctantly confront who she really is while digging deeper into her past to explore the reasons why.
Please note, there was a lot of speculation about Kilgrave being back for this season, especially after Tennant was seen filming for the production this past summer, and Entertainment Weekly confirmed it with a production still. Variety reports that Tennant is only back for one episode, which we assume will be some sort of vision in Jones' mind. But as for him being some sort of "beyond the grave" villain, that's a no go.
Instead, the trailer suggest that this will be a chance for Marvel to fill in some of the blanks for Jones, and perhaps Luke Cage as well. Cage was originally introduced as a side character in Jones' story, the widower of someone Kilgrave had her do in while under his power. At the time, Jones thought her an innocent victim. But by the end of both her series and the Luke Cage stand alone series that followed, we learned that Cage's late wife, Reva, wasn't all she seemed. She was somehow involved with the creation of Kilgrave, and possibly the creation of Jones and Cage too.
With Luke Cage Season 2 currently slated to also come out at some point in 2018, having their stories stay intertwined post-Defenders seems like a savvy move. Unlike Iron Fist, who is not nearly as popular, both Cage and Jones have a lot of fans and goodwill that would be made very happy by a few crossover episodes.
Sadly, Mike Colter, who plays Cage, is not currently listed to be part of the upcoming season yet. We will see Trish Walker (played by Rachael Taylor) however, as well as Malcolm Ducasse, (played by Eka Darville) and Jeri Hogarth (played by Carrie-Anne Moss). No word on if Foggy from Daredevil will also make an appearance, though as far as we know, Murdock's former partner still works for her law firm.
There's also two new cast members, Janet McTeer (pictured above) and J.R. Ramirez, who we don't know much about yet, though from the trailer Jones seems quite keen on the latter's character, Oscar.
According to ComicBookMovie, showrunner Melissa Rosenberg tells fans that the new season is more of a "noir thrillers" than Season 1.
'character dramas' and 'sometimes horror and action movies' served as the inspiration for season two but promises that 'fans will definitely recognise moments from the [comic books].
Also, according to Deadline, all thirteen episodes this coming season were directed by women, which is a first for any of the Marvel Netflix series.
Jessica Jones will debut all 13 episodes on Netflix on Thursday, March 8, 2018.