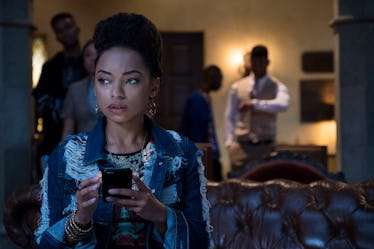 'Dear White People' Season 2 Is Coming & This New Teaser Reveals The Premiere Date
Adam Rose/Netflix
The college semester may be wrapping up, but things at Winchester University are just getting started. On Monday, Netflix released a teaser for Dear White People Season 2, and from the looks of it, Season 2 is going to be even more timely than the first. Fans of the Netflix drama-comedy won't have to wait long to be reunited with Winchester's students: the teaser revealed that Season 2 will drop on May 4, so get ready binge this addicting series all finals long.
Dear White People Season 2 — which Netflix is calling Volume 2 — picks up right where Season 1 left off (**spoilers for Season 1 ahead!**). In the Season 1 finale, everything hit the fan when Lionel revealed that the university's leading donors have been promoting racist policies on campus, including threatening to take away Armstrong-Parker, the dorm for students of color. In Season 2, Winchester's black and brown students must deal with the repercussions of the protest and the hostile feelings of an already-hostile campus. Sam (the amazing Logan Browning) already received blowback for her "Dear White People" radio show, but now she's facing something much more sinister: she's become the target of a vicious online troll who takes anonymous — and harsh — swipes at her, and she's uncertain how to fight back.
Creator Justin Simien is known for drawing on current issues, and there's practically nothing more timely than online trolls, especially racist ones. Whereas fans knew everything upfront about Season 1 (the racist black face party that informed the rest of the season was the first thing we saw), Simien told Entertainment Weekly that things in Season 2 will be much more mysterious:
There's a lot of secrets to uncover this season, in particular, who is coming after Sam. Everyone's got secrets this season — secrets from each other, secrets from themselves. There's lots of things that the characters don't know and have kind of repressed, and sort of going into those treasure troves is something a lot of the characters are doing.
I know that secrets, secrets are no fun, but they sound pretty amazing where Dear White People Season 2 is concerned.
Plenty of stuff is up in the air when it comes to Season 2, but one thing is for sure: there will definitely be more of those amazing show parodies. Season 1 parodied Scandal with Defamation, a hilarious soap opera that everyone in Armstrong-Parker house was obsessed with. In Season 2, Dear White People will parody Love & Hip Hop with none other than Lena Waithe, who will play the loud mouthed MC of Trap House-Tricks. "It's Lena if Lena was a hot mess. It's proto-Lena," said Simien about P Ninny, Waithe's character. Waithe explained that P Ninny is totally different from her previous characters, but she loved having the experience to act like the wild MCs on reality TV shows:
I've never played anyone like this character. What's so funny about her is that she's not aware of how she's coming off to the world. But, she's a lot of fun. I just got be like really silly and crazy, and say crazy stuff, because that's what happens in that world.
Don't let Waithe's ridiculous character or the trailer's easy breezy attitude fool you: Dear White People Season 2 is just as intense as the first round. Reggie is suffering from serious PTSD after almost being shot by the police, Lionel is trying to figure out his own sexuality, and the different groups within Armstrong-Parker house are still at odds with one another, especially once a group of white students moves into the dorm. These topics are definitely not light, but if anyone can take difficult subject matter and humanize it, it's the amazing people behind Dear White People. I can't wait to see what they've come up with for Season 2.
Dear White People Season 2 premieres on Netflix on May 4.