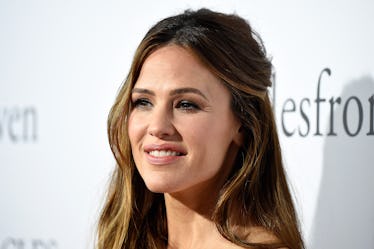 Jennifer Garner & Lena Dunham Have A New HBO Comedy Series & It Looks Hilarious
Frazer Harrison/Getty Images Entertainment/Getty Images
HBO doesn't shy away from gritty realness, and when it comes to what stars equate with that often hilariously or awkwardly honest looks into characters' lives, America's sweetheart Jennifer Garner definitely wouldn't be the first name to come to mind. The beloved actress is taking a major leap of fate in her career with an upcoming HBO comedy from Girls team Lena Dunham and Jenni Konner. Garner recently shared a behind-the-scenes look at the new series, so when does Camping premiere?
The eight-episode comedy doesn't have an official airdate yet, but is reportedly due to launch on HBO in 2019. Adapted from a British series with the same name, Camping introduces Garner's Kathryn, who plans a 45th birthday party for her husband (played by Doctor Who star David Tennant) in the woods. Falling more into the Type A persona, Katherine isn't exactly a lover of nature and struggles with the logistical challenges that pop up when throwing a party outdoors.
If you follow the 13 Going on 30 star on Instagram, you can probably sense that Garner herself is actually quite the opposite from Kathryn. This year alone, she's shared pictures from hikes and her veggie garden, and she even posted a tribute to her pet chicken who passed away. We may not have met Camping's Kathryn yet, but I doubt she would own a chicken. Based on this teaser of the British series, Camping looks like it's bizarrely hilarious, so an American twist would introduce an even more crazed, uptight Kathryn.
Fitting this outdoor theme that is so against (fictional) character, Garner recently shared a group photo of the Camping cast before they're "sunburned and covered in ticks," as Garner put it.
Juliette Lewis, Bridget Everett, and Brett Gelman join Garner and Tennant in the project, perhaps alluding to the eccentric characters mentioned in HBO's official press release about the show:
The half-hour comedy follows married couple Kathryn and Walt, who have planned a delightful weekend 'back to nature' for Walt's 45th birthday. But when the camping trip gathers Kathryn's meek sister, holier-than-thou ex-best friend, and a free-spirited tagalong in one place, it becomes a weekend of tested marriages and woman-on-woman crime that won't soon be forgotten.
The plot of dealing with such extreme personalities sounds like familiar territory for Dunham and Konner, who are working as the comedy's writers, executive producers, and showrunners. In a statement about Garner's casting, the two wrote:
We love Jennifer's restraint and comedic timing, and we can't wait for the warmth and intelligence she'll bring to our central character, Kathryn. It's truly a dream to have her first on our call sheet. Now we just have to write her some stunts.
In Garner's last TV series, the action thriller Alias, her character Sydney Bristow was a double agent, requiring Garner to pull off stuntwork every now and then. A comedy set outdoor has to have some stunts revolving around trees or dangerous woodland creatures, right?
Definitely symbolizing a new stage in her career, the HBO series comes after Garner spent years working on movies instead of small screen projects, Proving that history totally repeats itself, Alias came about after Garner moved from New York City to L.A. In New York, she was a young aspiring actress who often babysat Stephen Colbert's daughter. In a 2017 appearance on The Late Show with Stephen Colbert, Garner recalled the overnight change in her life when she began work on Alias:
[My agent wanted me] to go to L.A., and I did... yes, [L.A.] devoured me, but I'm OK... Imagine that moment when things shift for you like that, when you go from babysitting and struggling to all of a sudden being... that was really fun. I feel really lucky.
Working for HBO is a totally different kind of shift for Garner, but I have faith in her abilities to make Camping a hilarious hit.